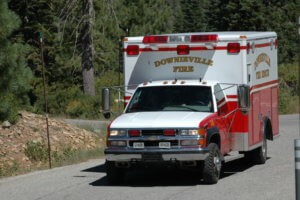 If you rode a Yuba Expeditions shuttle in 2018, you were part of something very special – helping fund a full-time paramedic in Downieville. Since 2014, medical services in Downieville have been very limited – not a great situation when you've been hurt on-trail and need medical attention. Sierra Frontier Medical Resources (SFMR) was formed a couple years ago to address this deficit in advanced life support services, raising funds to employ a full-time paramedic in Downieville.
Last year, thanks to everyone who rode a Yuba Expeditions shuttle, we were able to donate $6,600 to SFMR, giving one dollar per shuttle rider. This year we were able to nearly double that amount, giving $12,835 total to SFMR. This huge donation increase is thanks to the 7,435 folks who rode a Yuba Expeditions shuttle with $1 of every ride going to SFMR. Then there was the herculean effort of  "Shuttle Daddy #1", Billy Epps, and his record-breaking nine shuttles driven in one day on June 23.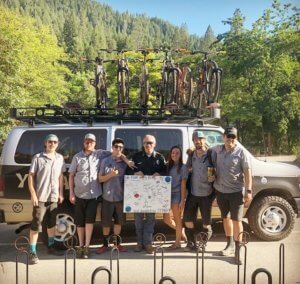 Billy's feat was done not only to break the shuttle record, but more importantly, to raise money for SFMR. Dozens of folks in the community and beyond pledged their support, donating a specific amount per lap that Billy drove, resulting in $5,400 raised in support of SFMR. The $12,835 will go towards continuing to employ Marty Creel, shown in the photo above with Yuba Expeditions service manager Jon Palmer and the Shuttle Daddy himself, Billy Epps.
"We are thrilled to be able to continue our contributions to SFMR," said Christian Feucht, Managing Director, Sierra Buttes Trail Stewardship. "This kind of contribution isn't possible without the support of both the mountain bike community as well as the local community. We're thankful to have such loyal customers and locals who believe in recreation as a viable economic engine for the community."
For more information on SFMR and to make a tax-deductible donation, visit sierrafrontier.org