We build trails and this is how we get after it
Where do we work?
Our non-profit, Sierra Buttes Trail Stewardship, has numerous trail projects located throughout Plumas and Sierra Counties, and Plumas, Lassen and Tahoe National Forests. We have also branched out helping trail user organizations in South Lake Tahoe, Santa Cruz, the Sacramento valley and the Sierra foothills with CA State Parks. The type of work performed includes:
Maintenance
Restoration
Realignment
Development and Construction of New Trail
We have extensive experience and an arsenal of equipment, for working on everything from motorized OHV trails, to hike/bike/horse multiuse trails, to Pacific Crest Trail, to wilderness trails, to flow trails and even ADA accessible pathways. And we're available for hire in the off-season.
If nearby Downieville is home to one of the state's best known downhill runs, Mt. Elwell, in the Northern Sierra, might have one of the country's best-kept secrets.
– 10 Great American Mountain Bike Trails, Outside Magazine, July 2015
Where does the money come from?
Projects are funded by a combination of:
Grant funding (County, State, Federal and Private Sector)
Annual and Core Memberships
Our bike shop in Quincy, Yuba Expeditions
Prize drawings
Proceeds from our Trail Map
Another source of funding has come through dynamic partnerships with Santa Cruz Bicycles and Ibis Cycles. These amazing companies have helped us spearhead multiple $5 Bucks A Foot campaigns, raising over $300,000. Project funding for Connected Communities has been provided by Sierra Nevada Conservancy, California Off-Highway Vehicle Division grants, California State Parks & Recreation grants, California State proposition funds, National Forest Foundation grants, Secure Rural Schools, Outdoor Industry partners, Adopt a Trail sponsors and SBTS matching funds.
How do we get the job done?
The work gets done through a combination of our professional and locally hired Trail Crew and dedicated hard-working volunteers. SBTS produces 10+ organized volunteer trail workdays each year with work locations in the Plumas and Tahoe Forests. These Trail Daze events average 35 volunteers per workday, and we've had over 200 volunteers at our larger trail work events. To date, we have generated over 100,000 volunteer hours on local trails.
In 2021, SBTS employed 72 people, most of whom are Plumas and Sierra County residents, and an annual payroll of over $1,000,000. As part of our Challenge Cost Share Agreements with the US Forest Service, SBTS supplies an in-kind match of 20% through the following methods:
SBTS staff time
Volunteer labor
Equipment and tools
Food for volunteers
Employee and volunteer travel
Completed Trail Construction and Maintenance Projects
Sunrise Trail (2006)
Chimney Rock Trail (2006)
Empire Creek Trail (2007)
North Yuba River Trail (2007)
North Yuba River trail, landslide repair (2007)
Smith Lake and Mt. Elwell Trail Reroutes(2008)
Bear Lake, Long Lake (upper)(2008)
Round Lake, Silver Lake, Long Lake (lower)(2008)
Lakes Basin Recreation Area Trail Rehabilitation (2008)
Downieville Downhill Trail Rehabilitation (2008)
Lavezzola Creek Trail (2009)
North Yuba Trail Extension (2009)
Gray Eagle Creek Trail (2007)
Craycroft Ridge Trail(2009)
Long Lake Connector Trail (2010)
C. Roy Carmichael Elementary Learning Landscapes Trail (2010)
Ben Lomond Trail Restoration (2010)
Jamison Creek Stringer Bridge (2010)
Jamison Creek Trail Restoration (2010)
Long Lake Trail, landslide repair (2010)
Nelson Creek Trail (2010)
North Yuba Trail, Downieville to Goodyears Bar (2011)
Mills Peak Trail (2011)
Pacific Crest Trail (2011)
Bucks Creek Loop Trail (2011)
Hartman Bar Trail (2011)
Learning Landscapes project (2011)
Rag Dump OHV Trails (2011)
Downieville Trail System Maintenance (2011)
Mount Elwell Trail realignment (2011)
Sierra Buttes Lookout Trail (2011)
Smith Creek Bridge (2012)
Q Trail at Quincy High School (2013)
Antelope / Taylor Lake Trail System (2013)
Graeagle Creek Trail (2013)
Butcher Ranch Trail (2013)
Silver Lake Trail (2013)
Long Lake Trail (2013)
Pauley Creek Trail (2013)
Round Lake Trail (2013)
Smith Creek Trail (2013)
Grassy Lake Trail (2013)
Pacific Crest Trail North of Belden (2013)
Cascade Trail (2014)
Spanish Traverse Trail (2014)
Spanish Ridge Trail (2014)
Boca Loyalton Trail (2014)
Culvert Trail Auburn (2014) – in partnership with CA State Parks and Folsom Auburn Trail Riders Action Coalition
Smith Creek Trail (2014)
Jamison Creek Trail (2014)
Corral Trail South Lake Tahoe (2014) – in partnership with Tahoe Area Mountain Biking Association
Smith / Graeagle Creek Connector Trail (2014)
Packer Saddle Flow Trail (2014)
North Yuba Extension (2014)
Lily Lake Trail (2014)
Bear Lakes Trail (2014)
Tamarack Lakes Trail (2014)
Butcher Ranch Trail (2014)
Mount Hough Trail (2014)
Boca Loyalton Trail (2014)
Granite Bay Folsom Lake Trail Restoration Planning (2014-2015)
Auburn State Recreation Area Trail Restoration Planning (2014-2015)
Mount Hough Trail (2015)
Berry Creek Trail (2015)
Chambers Creek Trail (2015)
Bell Hill Trail (2015)
Upper Cashman Creek Trail (2015)
North Yuba Trail (2015)
10M23 Connector Trail (2015)
Portola High School Trail (2015)
Long Lake Connector Trail (2015)
North Tollgate Trail (2015)
Lake Davis Trail (2015)
Indian Falls Ridge Trail (2015)
Big Boulder Trail (2015)
Third Divide Trail (2015)
Culvert Trail Auburn (2015)
Mount Hough Trail System Development (2016)
Mount Hough Trail System Maintenance (2016)
Gold Valley Connector Trail (2016)
Downieville Trail System Maintenance (2016)
Doton's Point Project/Granite Bay Folsom Lake (2016)
Mohawk Rim Trail Planning (2016)
San Vincente Redwoods Santa Cruz Planning (2016)

Upper Salmon (2018)

Indian Falls Ridge (2018)

Mills Peak Extension (2018)

Mt Fillmore (2019)

Right Hand Branch (2019)

Downie River (2020)

McCarthy Bar (2020)

No Ear Bar (2020)

Oddie Bar (2020)

Antelope Trails (2020)

Haskell/Chapman Connector (2020)

Grizzly (2020)

CAL IDA (2020)

Yellow Creek (2021)

Nelson Creek (2021)

Thousand Lakes (2021)

CRC Learning Landscape High Loop (2021)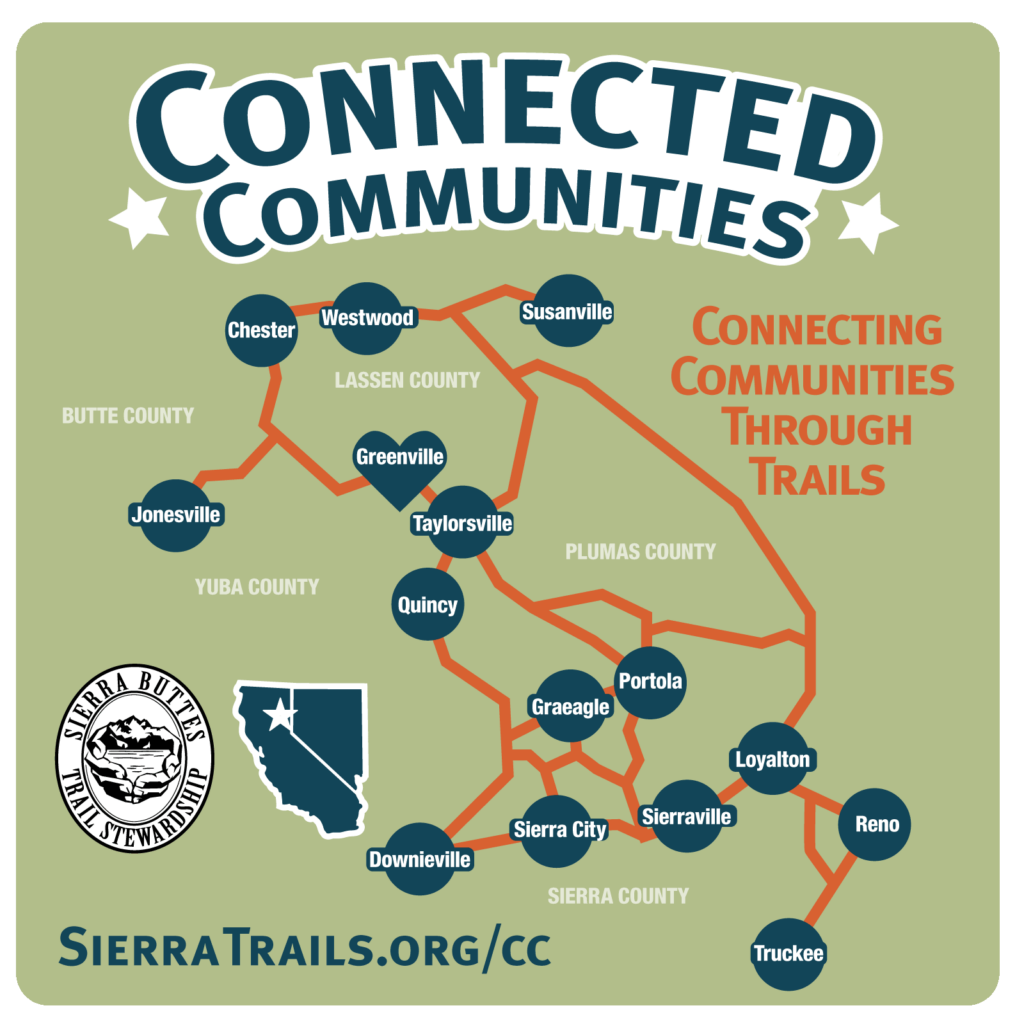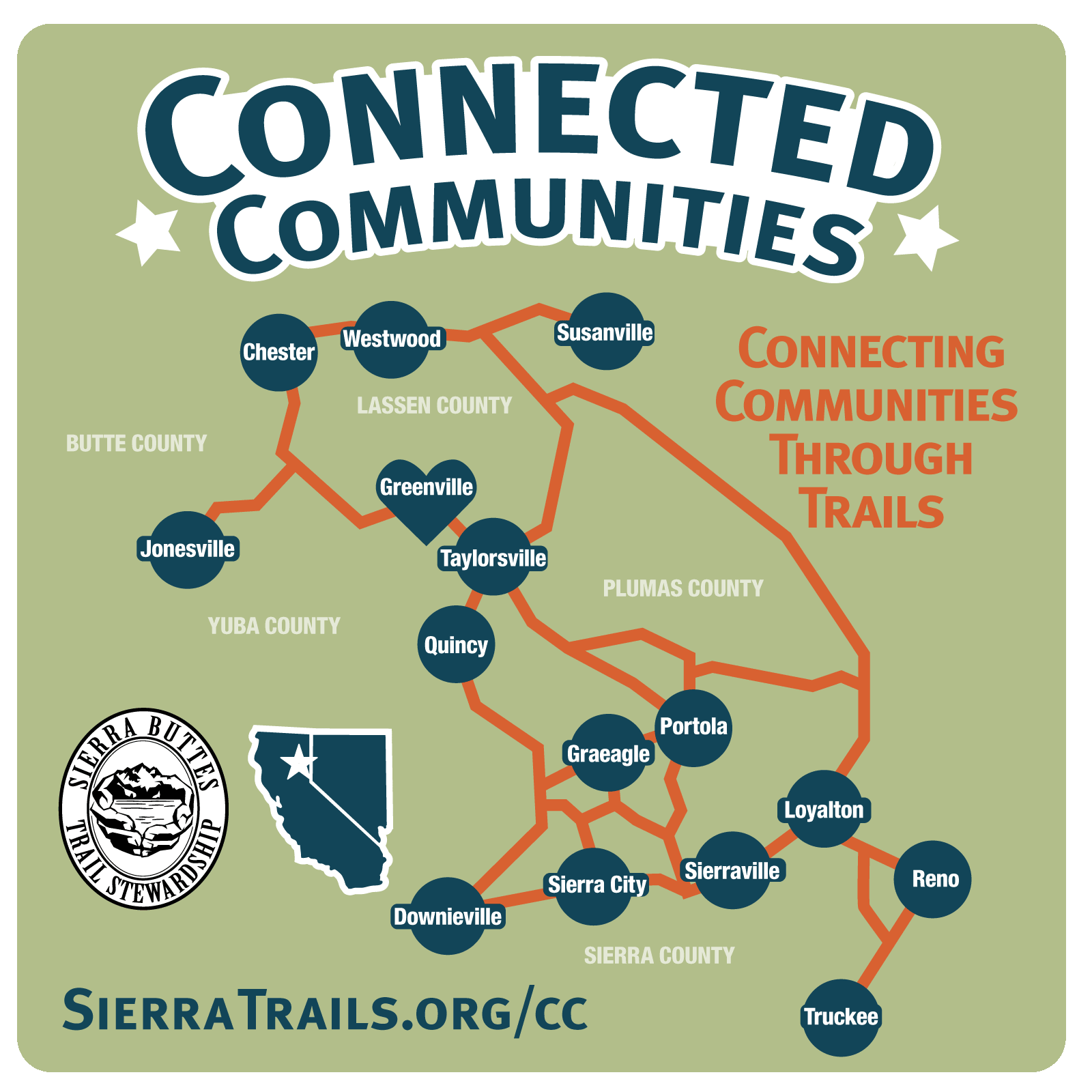 ACTIVE TRAIL PROJECTS
We post our current trail projects on the SBTS Projects website, a detailed interactive resource so you can see what the SBTS is creating in the Lost Sierra region. The SBTS Projects website is
Detail Maps
Details on All Projects
Identification of Projects by Phase, including;

Phase 1- Planning
Phase 2- Environmental Review
Phase 3- Construction
Phase 4- Maintenance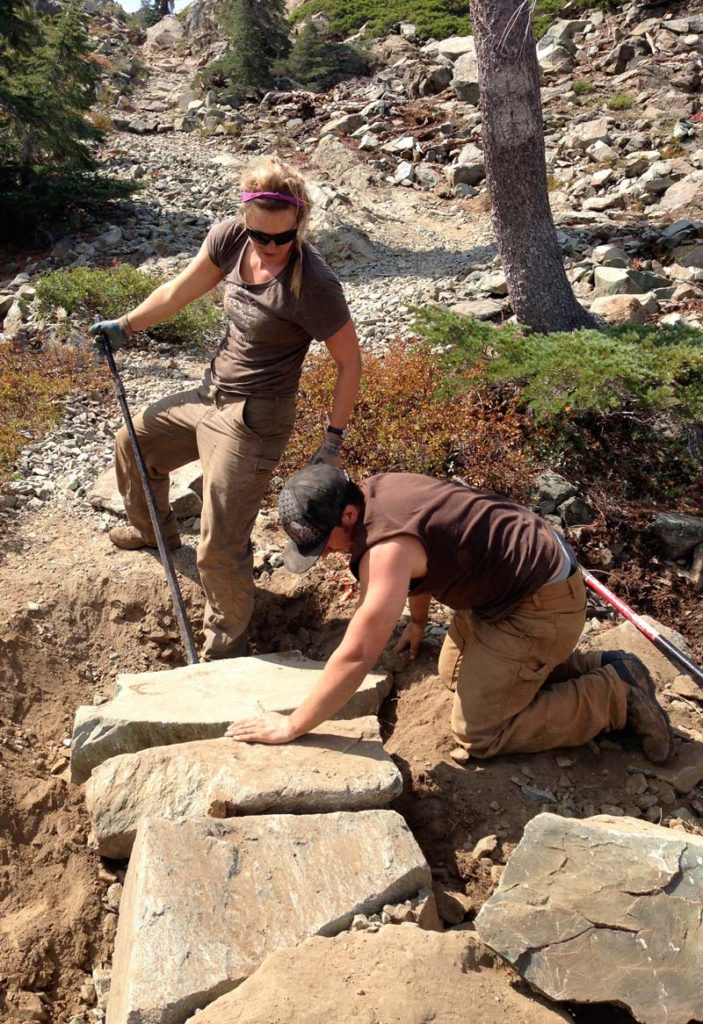 Detailed Rock Fitting in Lakes Basin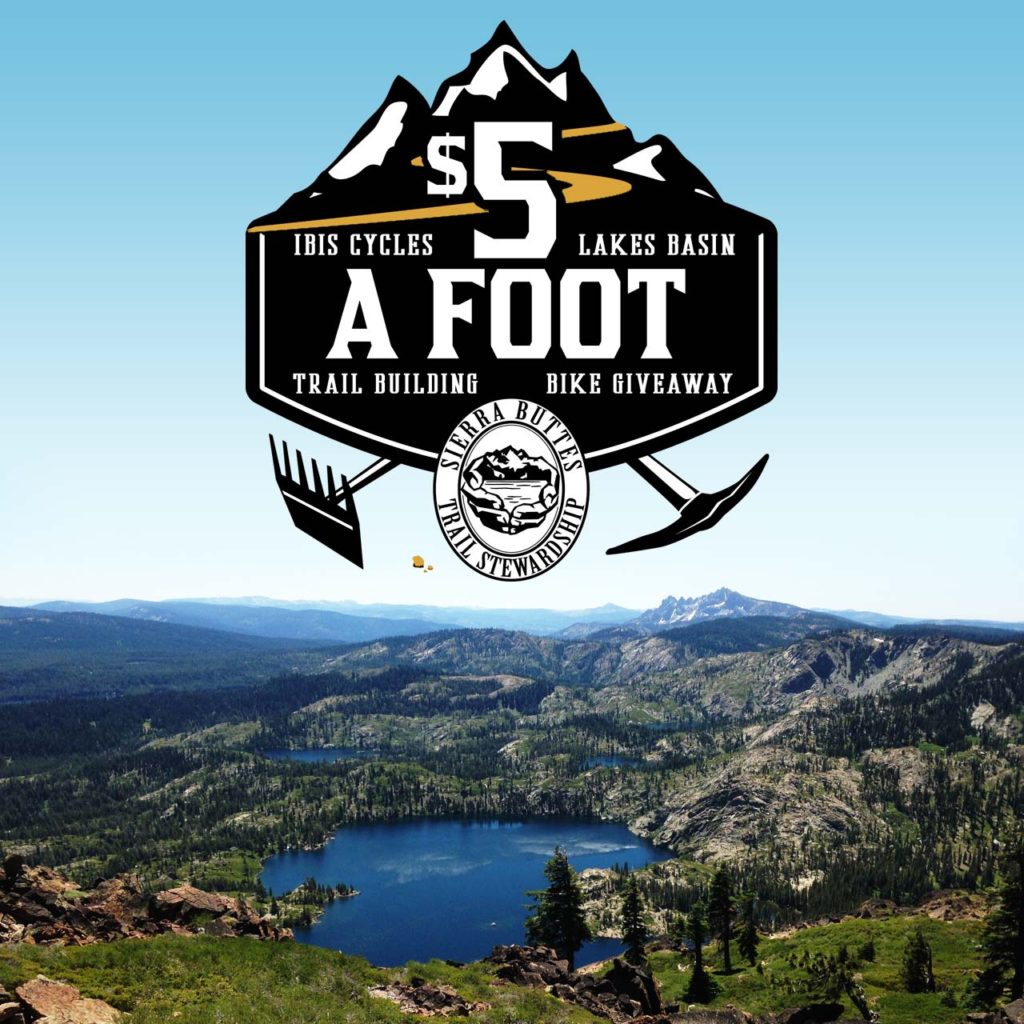 2016 $5 Bucks A Foot Fundraising Campaign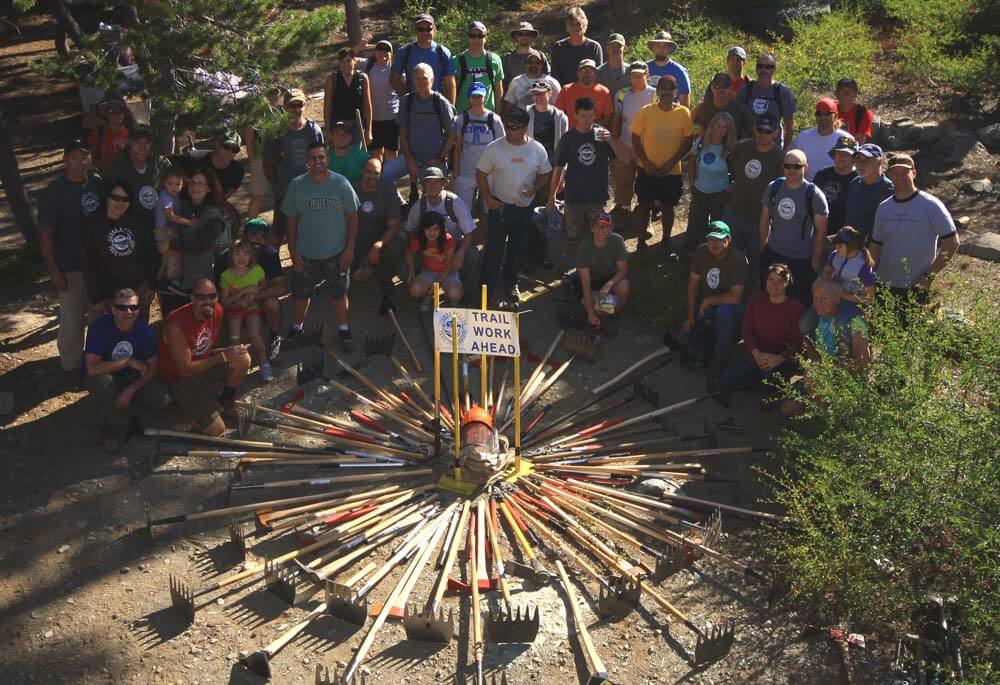 Volunteers are the lifeblood of SBTS
There's carnage all around but somehow the trail is the perfect mixture of rock and root of just the right severity… Mt Elwell is a different art, a wilder beast.
– Mt Elwell, Lakes Basin – #3 Best Mountain Bike Trails in the World, dirtmountainbike.com