Downieville bike shop commits to annual funding for full-time Paramedic
Downieville, Calif. – Yuba Expeditions, a mountain bike-specific shop and shuttle service based in Downieville recently presented Sierra Frontier Medical Resources, Inc. (SFMR) with a check for $6,600 to help fund a local, full-time paramedic servicing the emergency medical needs of the community. A non-profit 501(c)(3) organization, SFMR's specific purpose is "to acquire and support the development of financial and other resources to assure the availability of medical and health services, including primary, urgent and emergency care to the residents of and visitors to western Sierra County."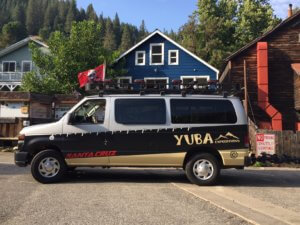 In 2014 western Sierra County lost 40 years of integrated 24/7 EMS Services after Western Sierra Medical Clinic (WSMC) reduced clinic hours and terminated emergency services. SFMR was formed to address the lack of emergency care, but depends on the financial support of residents, organizations and businesses in Sierra County to employ a full-time Paramedic.
This lack of emergency care couldn't come at a more critical time, as Downieville has grown into an international destination for mountain biking thanks to the legendary Downieville Downhill and the Downieville Classic held annually the first weekend in August. Not only is it legendary for its 16-mile, 5,500 vertical foot descent, but it's also legendary for claiming rider injuries in need of emergency medical care.
To show its commitment to the community, the Yuba Expeditions bike shop – owned and operated by another local 501(c)(3) non-profit, the Sierra Buttes Trail Stewardship (SBTS) – recently presented a check for $6,600 to SFMR to help fund a full-time paramedic.
"The figure came from a percentage of shuttles we drove to the top of Packer Saddle in 2017," said Christian Feucht, SBTS Managing Director. "We care about the health of the local community that supports us as well as those who visit the Lost Sierra, and we want to do everything possible to make sure critical medical services are offered."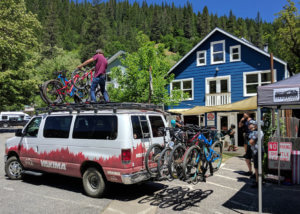 Yuba Expeditions will continue its commitment to SFMR, taking a portion of proceeds from each shuttle seat sold in 2018 and putting it toward the SFMR fund.
"SFMR is honored to receive Yuba Expeditions' generous donation and commitment to support the Advanced Life Support that a permanent local paramedic and emergency medical care volunteers can provide in medical emergency situations," said Ingrid Larson, SFMR Chair. "It takes the entire community, residents, property owners, and visitors alike to support this vitally need program."
Further funding of the paramedic and emergency medical services will be presented to Sierra County voters on the June 5 ballot. Measure B in Sierra City Fire District and Measure C in Downieville Fire Protection District each require a two-thirds vote, and both have to pass. If one fails, both fail. The permanent funding of a paramedic position is of utmost importance. It is a vital necessity for the community.
For more information on SFMR and to make a donation, visit sierrafrontier.org. For more information on Yuba Expeditions and SBTS, visit yubaexpeditions.com and sierratrails.org, or follow @yubaexpeditions on Facebook and Instagram, and @sierratrails Facebook and Instagram.
About Sierra Frontier Medical Resources
SFMR has taken the lead in initiating the "Paramedic Project" through private donations. It is committed to continuing paramedic and emergency medical services in the western Sierra County community. SFMR has already sponsored the training of 17 Homemaker Health Aides, 13 Emergency Medical Responders, 14 Emergency Medical Technicians, and 11 Advanced Emergency Medical Technicians, who, as volunteers provide emergency medical care to all in need, including residents and visitors in Alleghany-Pike, Camptonville, Downieville, Sierra City, Calpine and Loyalton.