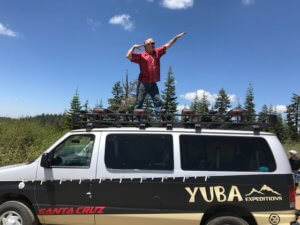 In the wake of Measure C failing to reach a 2/3rds majority in the Downieville Fire Protection District to help fund a full-time paramedic, there was a record-breaking fundraising effort last weekend for the Sierra Frontier Medical Resources (SFMR) Paramedic Fund. Billy Epps, known by mountain bikers as "Shuttle Daddy #1", took on the challenge of setting a new Yuba Expeditions shuttle driver record of eight laps driven in one day from Downieville to Packer Saddle and back, pledging all of his wages and tips for the day to SFMR. The previous record of seven laps was held for nearly a decade by Mike "The Metal" Haire.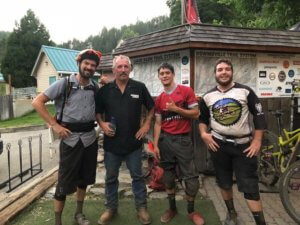 Starting at 5:30am, Epps drove non-stop all day for a total of more than 425 miles, finishing at Packer Saddle at 6:45pm. Not only did Epps achieve his eight driven laps on Saturday, June 23, but thanks to the support of his Yuba Expeditions crew, Epps actually turned out nine laps, finishing with a celebratory mountain bike ride on the Downieville Downhill with his son-in-law TJ Donovan and Yuba Expeditions shop manager Mason Werner.
"It was on my fifth shuttle run I realized that no driver can get past seven laps without a crew setting everything up for you on the next van," said Epps. "I'd like to give a huge shout out to the Yuba Expeditions crew for doing an outstanding job, as no one person could have done this by himself."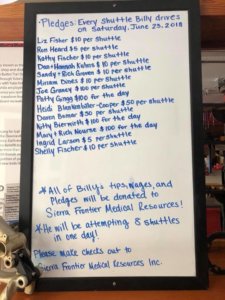 Community support for Epps' record-breaking effort was overwhelming, with mountain bikers, non-mountain bikers, Clampers and Downieville alumni pledging more than $5,000 to SFMR in support of Epps' nine laps up the mountain. Adding in the $6,600 donation from earlier this year, it brings more than $11,000 in support from Yuba Expeditions for the SFMR Paramedic Fund.
In his late June letter to the editor of the Mountain Messenger, Epps mentioned he is "…one of the most accident-prone guys in town", and expertly demonstrated it the day after breaking the shuttle record by being stung in the hand by a bee while loading a bike, immediately going into a serious case of anaphylaxis. Thankfully there was an EpiPen handy at the bike shop, neutralizing what could have been a condition requiring the very Emergency Medical Services Epps raised more than $5,000 for.
For more information on SFMR and to make a tax-deductible donation, visit sierrafrontier.org.