Sierra Trail Chasers donation campaign features custom bikes to raise awareness.
Sierra Nevada Brewing Company has teamed with Paul Component Engineering, Sierra Buttes Trail Stewardship (SBTS) and other notable cycling industry brands to build a pair of fully custom bicycles to raise funds and awareness for two local nonprofits working on disaster relief.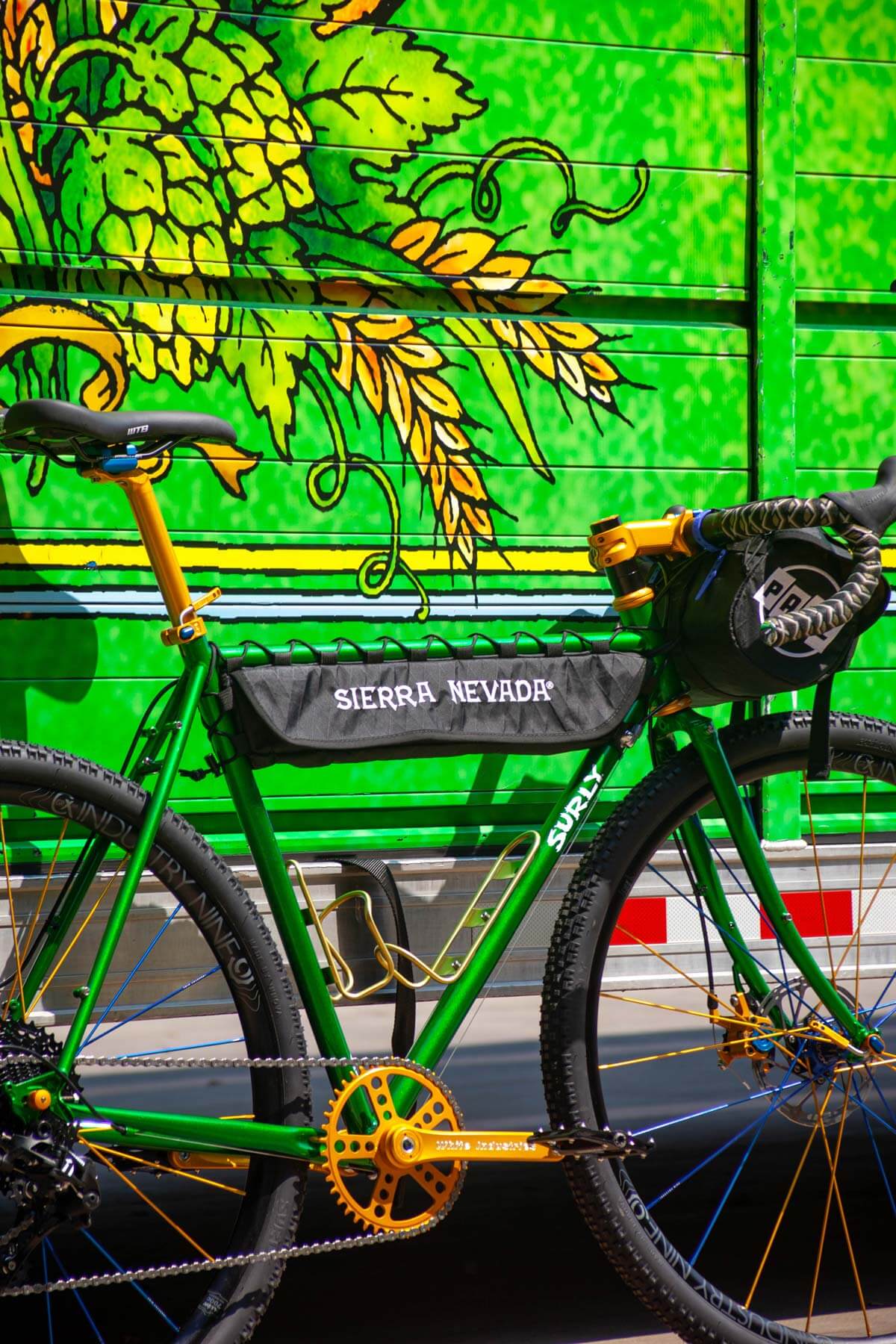 The campaign, dubbed Sierra Trail Chasers, will give away two ultra-custom bicycles to highlight critical fundraising efforts for SBTS on the West Coast and Pisgah Area SORBA on the East Coast. Both nonprofits are working to address severe damage to trail systems caused by the Dixie Fire in Plumas and Lassen Counties and flooding in North Carolina where Pisgah Area SORBA is located. 
"This is a critical time to support these trail organizations," said Sierra Nevada founder and owner, Ken Grossman. "Sierra Buttes Trail Stewardship has significant challenges right now dealing with the effects of recent wildfire activity in their area, and Pisgah Area SORBA is dealing with the aftermath of intense flooding in that area of North Carolina."  
People are invited to donate to SBTS for a chance to win one of the custom bikes through our Sierra Trail Chasers donation page or by accessing the QR code displayed at select beer retailers during the campaign. The contest runs September 1 through October 31, 2021.
Travis, known widely as California Travis, marketing lead at Paul Component Engineering says, "Paul himself [the owner of Paul Component Engineering] absolutely loves Sierra Nevada Pale Ale. It's his favorite beer. He's drawn inspiration from Ken Grossman's examples of how to run American manufacturing with sustainability, responsibility, and community in mind. We're stoked to partner on this kind of project for a fourth year. The bikes that we developed this time around are top notch with no detail spared, and the fundraising part of this couldn't come at a more crucial time for these non-profits."
About the bike: the Paul Component Engineering team stripped a Surly Straggler frameset, powder coated it metallic Pale Ale green, then completed the theme by building it up with custom parts anodized gold (to match the Sierra Nevada banner and wheat) and blue (to match the sky and stream on the label) donated by these awesome companies below. The SBTS custom bike is a size 52cm/Small (rider height 5'3" to 5'5") featuring donated parts from these premium cycling industry brands:
This really is an "Everybody Wins" fundraising campaign to support our efforts to rebuild trails following the Dixie Fire's devastation and funding the Connected Communities project. So, we extend a huge thank you to all the brands who have kicked in, and everybody who makes a donation!
About Sierra Nevada Brewing Co. 
Inspired by frequent trips to the Sierra Nevada mountain range, Ken Grossman founded Sierra Nevada Brewing Co. in 1980. Highly regarded for using only the finest quality ingredients, Sierra Nevada has set 
the standard for craft brewers worldwide with innovations in the brewhouse and in its sustainability efforts. The pioneering spirit that launched Sierra Nevada now spans both coasts with breweries in Chico, California and Mills River, North Carolina. Sierra Nevada is famous for its extensive line of beers including Pale Ale, Hazy Little Thing®, Torpedo® and a host of seasonal, specialty and limited release beers. Learn more at www.sierranevada.com.
About Paul Component Engineering 
PAUL Component Engineering designs and manufactures bicycle components of the highest quality. The Chico California based company strives for the best function possible in a package that is user friendly in terms of maintenance, weight and durability. Plus the components look as good as they work with an unmistakable PAUL aesthetic.