The communities of Portola and Gold Mountain near Nakoma Resort could soon be joined in Phase 1 of the Mohawk Rim Trail which is part of the Trail Master Plan for Eastern Plumas and Sierra County. The Master Plan was developed through two years of community outreach, meetings and later adopted by the Portola City Council. The Beckwourth Peak Recreation Project is an important link of the Plan connecting Portola to Graeagle and the Lakes Basin.
Public comments to support this project are due no later than Monday, November 6. All you need to do is follow the instructions below. By providing your comments, you'll support more new trails in this important part of trail planning process.

The New Route
New trail construction will be approximately 20 miles of National Forest System trail near the vicinity of Beckwourth Peak. It will be a non-motorized backcountry trail accommodating hikers, bikers, and equestrians. Proposed trailheads would be located in Portola and the Gold Mountain Community by Nakoma Resort. Click on this link to view more project details: https://www.fs.usda.gov/project/?project=52465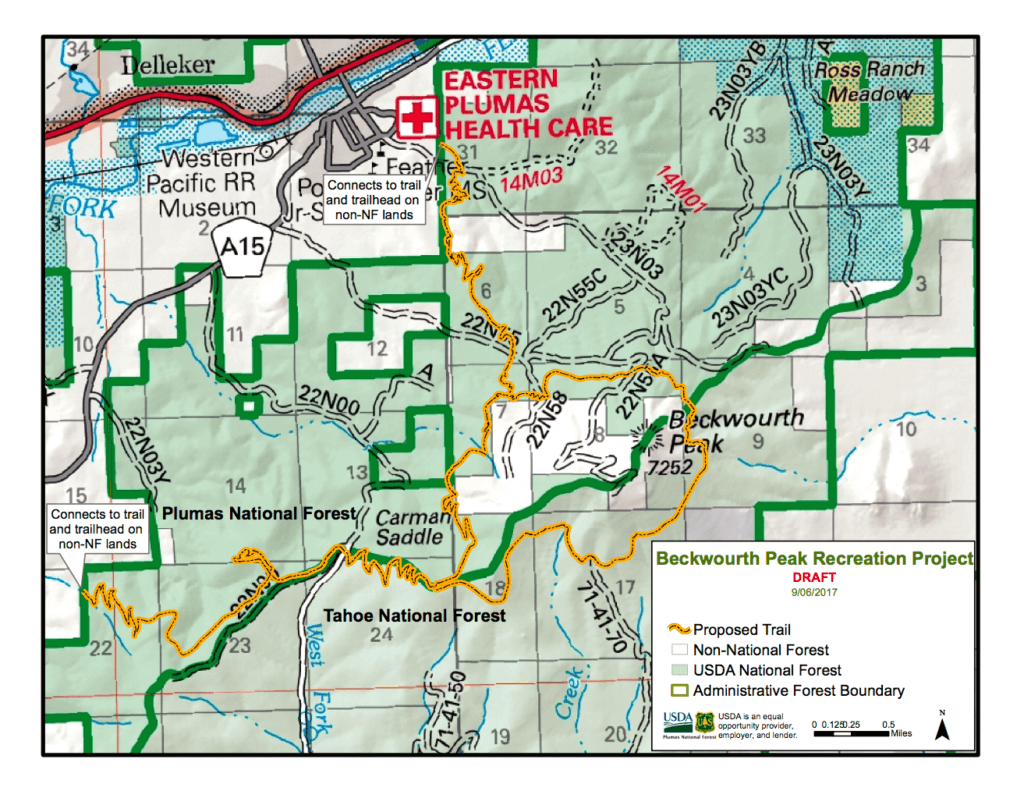 How You Comment
Write a short paragraph about why recreational trail improvement and growth is important to you. Providing personal stories is a good way to start: "I support this project because trails support mountain communities and good, healthy outdoor living. I personally visit the Lakes Basin/Graeagle/Portola area for (insert your outdoor recreation story). Adding to these trails will further improve my outdoor experience while connecting towns and creating economic growth." You don't have to use these words exactly, but you get the general idea – positive, personal, how you enjoy the trails with friends and family.
Submit electronic comments to: comments-pacificsouthwest-plumas-beckwourth@fs.fed.us
– Comments submitted electronically must be in plain text (.txt), rich format (.rtf), Word (.doc or .docx), portable document format (.pdf), or an email message.
– Please include "Beckwourth Peak Project" in the subject line.
That's it. Super easy and fast to do. Thank you!