Callused hands, burnt shoulders, fatigued backs and yet the SBTS crew builds on into the winter. To say that trail building beats up the body is an understatement. Our trail crew members are as hard as the pulaskis they pound, working through their pain, bumps and bruises without a gripe.
On the other hand, the equipment we use can't speak. It can't tell you when it's tired and wounded. It can't tell you when it needs attention until it finally goes 'snap'! Our mini excavator, sometimes referred to as "Old Wobbly" by the crew, is an essential tool of our work. With a 13-inch bucket, 35-inch blade and 9-inch wide rubber tracks that can be narrowed to 24-inches of cutting width, it's the perfect dimensions for building singletrack over rough ground and in tight places. And this winter as it was digging the new Mills Peak singletrack, it spoke up as it dug into another frozen rock on a cold December morning.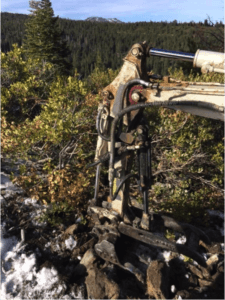 Old Wobbly on the new Mills Peak singletrack finally giving up the ghost.
In total, the SBTS crew has operated 3,600 hours on Old Wobbly. Purchased in 2010, it has been an integral part of the 80 miles of new singletrack and 800 miles of maintained trail we've laid down since our inception in 2003. Plus, it nearly took out the frontend of the Jellybread band Sprinter van at the Downieville Classic a few years back – but that's a story for another time. For those of you who have spent time behind Old Wobbly doing finish work with a McLeod, it's something to behold when you witness a 1/4 mile of trail built right before your eyes. 
So who do you call when your tractor bites the dust? How about Quincy local and custom bicycle frame builder Cameron Falconer. After building frames in the Bay Area for five years, Cameron, one of Yuba Expedition's first employees and owner of Falconer Cycles, returned home to the Lost Sierra a couple of years ago to continue his life's passion building sweet bikes. You'll find Cameron at our volunteer dig days, out front winning stages at Grinduro and in this case, making sure Old Wobbly keeps wobblin'. Cameron was quick to offer his skills and time to fixing up Old Wobbly. This sort of loyalty without hesitation is what we always get from Cameron and speaks to how people in mountain communities support each other.
And just like that, Old Wobbly was back in action!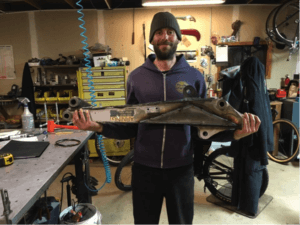 Cameron holding the freshly repaired excavator arm that had nearly broken in two pieces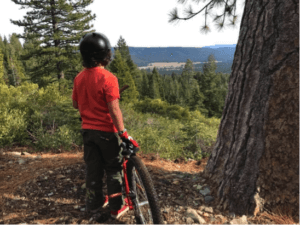 Myles Williams (age 8) aboard his custom built Falconer bicycle soaking in the views and getting ready to descend Mills.
With a little help from Mother Nature who held off winter for us and a bunch of local, dedicated volunteers out there nearly every day, we were able to get back on the trail and keep digging. Our thanks goes to Ron and Melinda Heard, Phil Kaznowski, Bill Gentry, Mike Morgan, brothers Dale and Kirk Lambert, Dave Larrieu, Josh Lambert, Richard Weertz, Greg Long, Tim Rhodes and Jamie Bate and Dan Gallagher of Nakoma Resort who all helped us make this dirt magic happen.
Thanks to their efforts, we are pleased to announce that the new Mills Peak Trail singletrack is NOW OPENED!! This 1.7 miles of new singletrack bypasses the teeth-rattling jeep road that no one will likely miss. As we tell you this, snow is arriving in the Lost Sierra, so unfortunately you'll have to wait to experience this amazing new trail. But snow's exactly what we needed as the icing on top of that freshly cut terra firma. Because we got it done before winter hit, it's going to be heaven on dirt come this spring. So when you rip the new section of Mills Peak this spring, give a shout out to our crew, our partners the US Forest Service Beckwourth District, Ibis Cycles who sponsored the $5 A Foot campaign to fund this trail, Old Wobby, our local volunteers and Cameron Falconer for coming through for all of us to enjoy.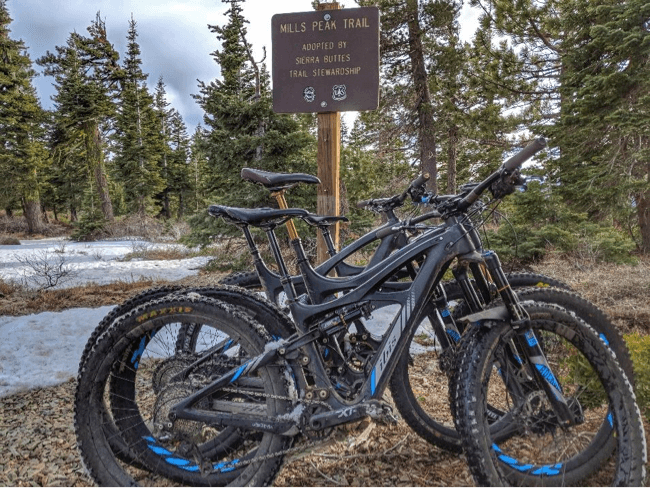 Funding thanks to Ibis Cycles was key in creating the Mills Peak Trail – a favorite for many in the Lost Sierra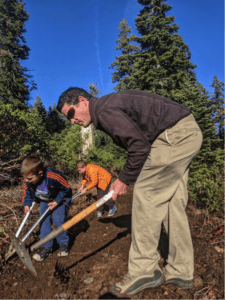 Dan Gallagher of Nakoma Resort with his boys Finn (age 7) and Farrell (age 8) getting after it.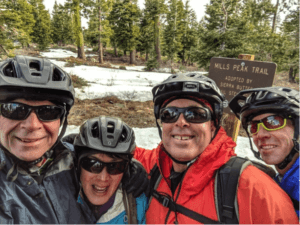 Ron and Melinda Heard, Bill Gentry and Mike Morgan getting ready to sample the goods before winter arrives.
These views and arguably now the best section of Mills Peak Trail awaits you in the spring! See you on the trail.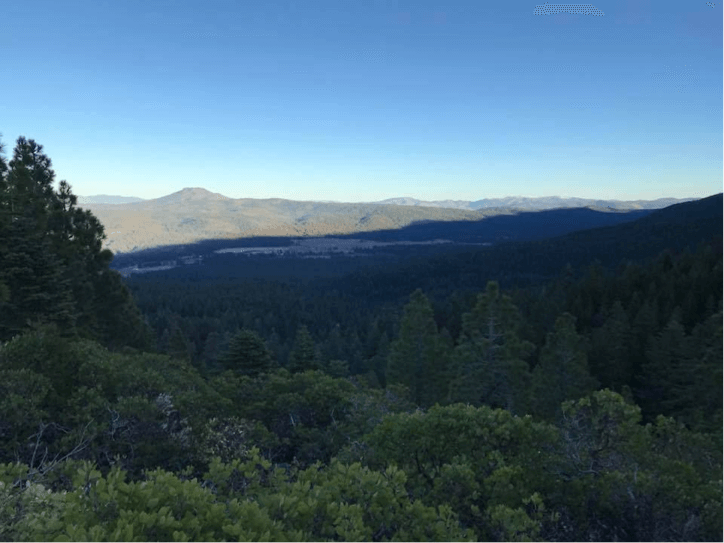 Views from the high mark of the new section of Mills Peak Trail.