Nine new miles of singletrack highlighted by access to old Pacific Crest Trail alignment
The Lost Sierra region that includes the notorious Downieville Downhill is a model for true shared multi-use recreation, thanks in part to a strong partnership between the Sierra Buttes Trail Stewardship (SBTS), Sierra County Land Trust, the Tahoe National Forest – Yuba Ranger District and the Pacific Crest Trail Association (PCTA).
And after nearly a decade of work, this weekend marks the grand opening of nine new miles of bike-legal singletrack and 1,500 extra vertical feet of non-motorized descent. From the very top of the Sierra Buttes at 8,591 feet elevation on the Sierra Buttes Overlook Trail, the Downieville Downhill now boasts 7,000 vertical feet of descent to Downieville, dubbed the "Tower 2 Town", one of the longest descents in North America. Not only is the Sierra Buttes Overlook Trail a technically challenging and fun singletrack descent, but it also offers breathtaking views of Lower and Upper Sardine Lakes as well as cliffside views of Young America Lake.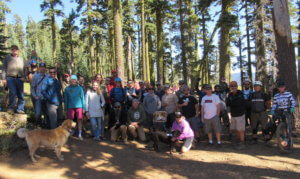 Nearly 40 trail users showed up for the ribbon cutting ceremony at the former PCT trailhead now known as Gold Valley Rim Trail.
Equally as important, mountain bikers and motorized users can now ride six miles of singletrack from Packer Saddle north to Gold Valley OHV Trail, aka "Baby Heads", via nearly four miles of the recently decommissioned Pacific Crest Trail (PCT) and two new miles of singletrack. The old PCT alignment combined with the two new miles of trail will be known as the Gold Valley Rim Trail.
This new singletrack alignment will bypass the Forest Service 93-3 road that used to connect Sunrise Trail with Baby Heads, a notoriously rocky doubletrack descent known to all who've ever ridden the Downieville Classic XC event. Not only is the new Gold Valley Rim Trail all singletrack, but it also offers majestic ridgetop views of the Sierra Buttes, Mount Elwell, Packer Lake and Deer Lake. Gaining access to this former PCT alignment is an enormous milestone in shared multi-use recreation. And to help showcase this gained multi-use access to the Sierra Crest, the 2018 Downieville Classic XC event will feature the Gold Valley Rim Trail.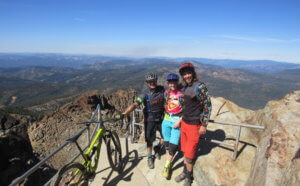 Taking in the views before dropping 7,000 vertical feet to Downieville.
A ribbon cutting ceremony was held this past Sunday near Packer Saddle where the new Gold Valley Rim trailhead is located, celebrating the grand opening of the trails. Speaking at the ceremony was Greg Williams, Executive Director of the SBTS, Richard Blankenbiller from the Sierra County Land Trust and Erik Johnson, a local trail builder contracted to help construct the PCT realignment through securing several grants with outdoor retailer REI.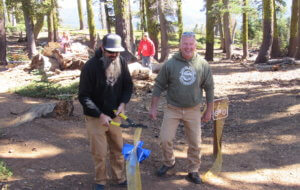 Greg Williams and Erik Johnson do the ribbon cutting honors.
"Multi-use trails for all motorized and non-motorized users are the kind of trails we love to build," said Williams. "This kind of project doesn't happen overnight. It took nine years and a lot of work between different agencies, but the end result benefits all trail users and our local economy."
To celebrate this historic occasion, after the ceremony a group of mountain bikers completed the Tower 2 Town, dropping 7,000 vertical feet from the Sierra Buttes Overlook all the way to Downieville. This gained multi-use access is just one of many more trail projects coming in the next few years in Downieville. Thanks to a healthy relationship between SBTS and the Tahoe National Forest – Yuba Ranger District, more than 30 miles of new multi-use singletrack will be constructed over the next five years, furthering the model of recreation as a sustainable economic powerhouse in a region historically known for mining and logging.