Of all the events SBTS puts on, our personal favorites are the Spring and Summer Epics. The Epic weekend is our opportunity to say thanks to SBTS Core and Annual Members. We provide our members free camping, food, beer, shenanigans and good times while packing in a big day of playing outdoors on Saturday and giving #dirtmagic love to our trails on Sunday.
This year's Summer Epic was held on August 24-26 at Pack Saddle Campground, hosting 75 SBTS members with perfect late summer weather and very welcome cooler evenings where we donned fall weather clothes around the campfire.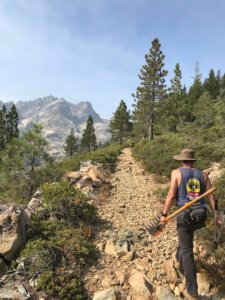 Of the 75 members in attendance, nearly 20 of them came from Specialized, our newest Adopt-A-Trail sponsor who adopted Round Lake Trail and the sponsor of this year's Downieville Summer Epic. For those unfamiliar with Specialized's trail advocacy efforts, their international Soil Searching project is led by Global Trail Advocate and master of stoke, Fanie Kok. Fanie's job sounds like a dream to most of us; traveling the world to meet and tell the stories of hardworking folks who make their communities better through trails. A native of South Africa, Fanie and his Soil Searching project is highlighted in the Summer 2018 issue of Freehub Magazine. We highly recommend you pick up a copy and read more about Fanie's efforts.
We were honored to have Fanie and Marcus Granberry bring such a huge contingent of Specialized employees to our Epic weekend, as for most of them, it was their first exposure to an SBTS Epic weekend and for others, their first Downieville experience. And it was especially awesome to discover that Specialized purchased every employee in attendance an annual SBTS membership.
On Saturday the crew sampled some of the Lost Sierra's finest terrain, riding the new Gold Valley Rim trail out to Round Lake trail, then down into Lakes Basin and up to the top of Mills Peak, before dropping all the way down into Graeagle. Once back to the campground, after throwing back a few beverages, hot dogs and burgers, shenanigans ensued with the Epic games, including a sidehack (BMX with sidecar) race around the parking lot, culminating into a game of hardboiled egg roulette. Much fun was had, and happily no injuries to report other than literal egg on the faces of some very happy people.
After some great campfire chatter Saturday night and a hardy breakfast on Sunday morning, the crew got to experience the breathtaking views of Sardine Lake Overlook trail while conducting much-needed brush work and trailbed maintenance. This is the best part of what SBTS does; bringing communities and friends together in the name of shared dirt pathways through the beauty of our public lands.
The vision Fanie has for Soil Searching is inspiring, and is a shared vision with SBTS. We both would love to see more bicycle industry brands committing more annual budget to trail work projects that can not only build new trails, but also help create new jobs and careers. Supporting the trail building heroes in every community is paramount, for without trail builders, there can be no great trail experiences. And without great trail experiences, we cannot fully appreciate the value of our public lands.
We're really excited about this new relationship with Specialized, creating even more #dirtmagic in the Lost Sierra for everyone who loves the outdoors.