Downieville Tough. It's a saying at Yuba Expeditions (our Sierra Buttes Trail Stewardship owned and operated bike shop) to describe a product that can withstand the rigors of the rugged and rocky historic mining trails above town. Downieville is the place where subpar bike equipment like wheels, tires, handlebars and even entire frames come to die. The combination of speed and rockiness on Downieville trails results in bike carnage we see every weekend.
Considering Yuba Expeditions transports hundreds of bikes on shuttle vans every weekend, bike racks also have to be Downieville Tough, as a single rack can be operated as much as 10 times a day. And with our new shuttles to Mills Peak in Graeagle and Mount Hough in Quincy accessing bumpy and dusty dirt roads, having durable, quality racks are more important than ever. You can ride 50 miles of singletrack you may not know existed, and these racks help us deliver riders and their bikes to new dirt discoveries.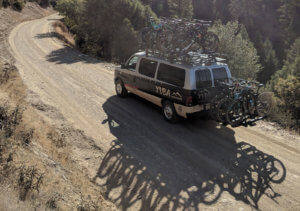 On a typical weekend in Downieville, Yuba shuttle drivers load one expensive mountain bike after another, with customers regularly bringing mountain bikes in the $5,000 to $10,000 range. When we are loading one super high-end mountain bike after another, we can't afford to compromise on our rack systems – they have to be as high end as the bikes that sit on them.
Earlier this summer we equipped all four Yuba Expeditions shuttle vans with Thule bike racks, using the T2 Pro XT four bike rear hitch rack and eight UpRide racks on the roof. Not only do the racks have a high-end look to match the bikes we're loading, but they also don't make contact with any part of the frame at all, especially important when transporting high-zoot carbon fiber shred sleds over bumpy roads.
Even over the bumpiest and dustiest parts of Mount Hough Road, the Thule racks have held bikes securely. And perhaps most important – the ease and speed in which these racks load and unload bikes. Considering we transport more than 150 people to the top of Packer Saddle above Downieville on a busy weekend, being able to quickly load and unload bikes is paramount.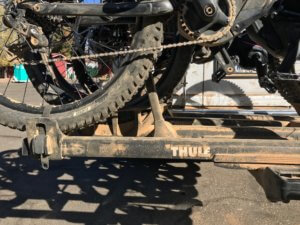 The UpRide rack is particularly quick, as it uses a scissor-type design to secure the front wheel. Simply lift one arm up in front of the front wheel, and the rear arm comes up and locks into the front arm, clicking firmly into place. The rear tire is secured with an integrated ratchet strap on a slideable mount to adjust for different wheelbases. Four quick and simple movements can load or unload a bike, literally in seconds. This is especially important considering there's another shuttle service in Downieville, and our drivers don't want to still be unloading bikes well after the other shuttle has unloaded!
Yuba Expeditions prides itself in being the pro-form Lost Sierra shuttle service, so we must have the pro-form gear to best care for our customers' bikes. We're excited about this new partnership with Thule, because their products are truly pro-form grade. Thule also understands the importance of what the Sierra Buttes Trail Stewardship is trying to achieve with trails and community development in an economically depressed part of California. "Over the years, Thule has helped cyclists of all disciplines carry their bikes safely and easily on every journey," stated Chris Ritchie, Thule's PR & Communications Manager. With that goal in mind, we strive to work alongside organizations like Sierra Buttes Trail Stewardship, who are making tremendous trail improvements in the Sierras, while also making it easier to access trails for new cyclists of all levels. When more people have access to great trails, we all win."
Sierra Buttes Trail Stewardship and Yuba Expeditions are honored to have Thule as part of the Tribe!