Bicycle frame building and trail building are as much forms of art as they are meant for adventure. The Sierra Buttes Trail Stewardship is honored to be the beneficiary of Builders for Builders, an online raffle running from now until June 15 where each $20 ticket enters you to win one of four custom-built gravel bikes from Stinner Frameworks, Sklar Bikes, Mosaic Cycles and McGovern Cycles, all made specifically for the Lost and Found Gravel Grinder. These four one-of-a-kind bicycles are outfitted with custom paint jobs and high-end components from ENVE, Chris King, SRAM and WTB, creating four completely unique creations. Check out the bikes below.
"While these are showroom worthy bicycles, they truly shine when they are being ridden," said Billy Sinkford of media relations partner ECHOS Communications. "These builders all came together wanting to support local trail builders who are stewards of the land and the local community. The work being done by SBTS exemplifies the time, dedication and craftsmanship that is on display."
For everyone familiar with our 5 Bucks a Foot fundraiser, Builders for Builders is similar in concept, with all proceeds from the drawing of these four bikes going back to the Stewardship to fund new trails and creating much-needed jobs in Plumas and Sierra County.
"I can't begin to express how grateful we are to be involved with this fundraiser," said Greg Williams, SBTS executive director. "Our 5 Bucks a Foot program has been instrumental in getting new trail projects funded, and having a similar fundraiser like Builders for Builders will enable us to create even more dirt magic in the Lost Sierra."
In addition to the proceeds going to support successful trail projects like the new Gold Valley Rim Trail and the final two miles of singletrack on Mills Peak Trail, but four very lucky people will be the new owners of a completely custom built gravel bike made specifically for the remote and beautiful backcountry near Lake Davis where the Lost and Found Gravel Grinder takes places every first weekend in June.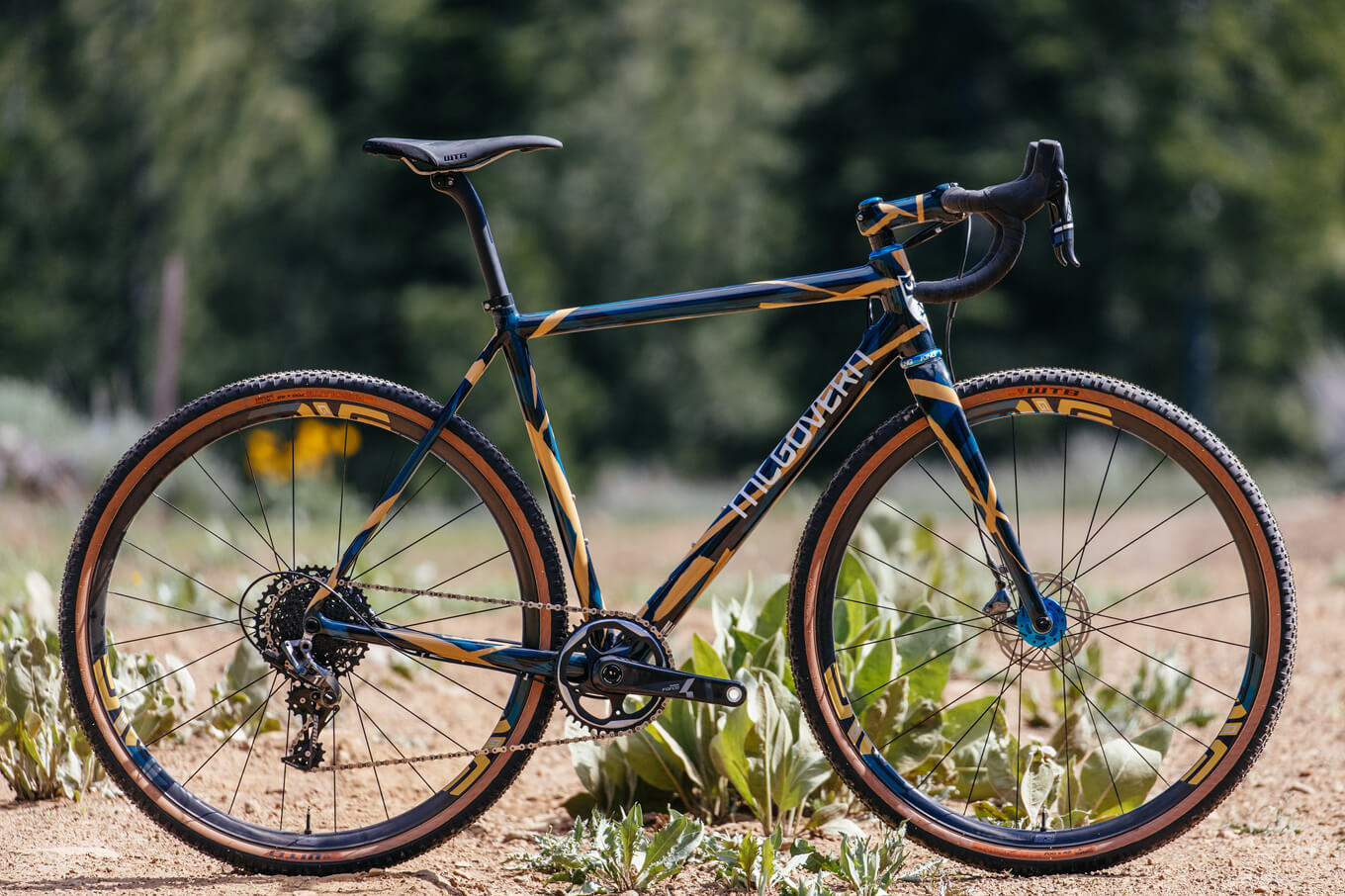 McGovern Cycles crafts versatile and stylish carbon fiber machines for any type of rider. Chris McGovern's obsession with bikes led him to start building his own, which developed into a passion to deliver finely crafted carbon fiber bicycles to discerning riders.
Built from carbon fiber in Nevada county California using tube-to-tube construction. Finishing off the rear triangle is McGovern's clever carbon fiber dropout system with a double-threaded axle nut fixing the derailleur hanger. From gravel to singletrack, the Cross Plus is ready to get rowdy on any type of unpaved surface.
Tech/Build Specs
Frame: Cross Plus Carbon
Paint: Custom Builders for Builders
Cockpit: ENVE
Wheelset: Enve G23 700c with Chris King hubs
Group: SRAM Force 1 hydro
Tires: WTB
Saddle: WTB
Geo: 56cm, see image above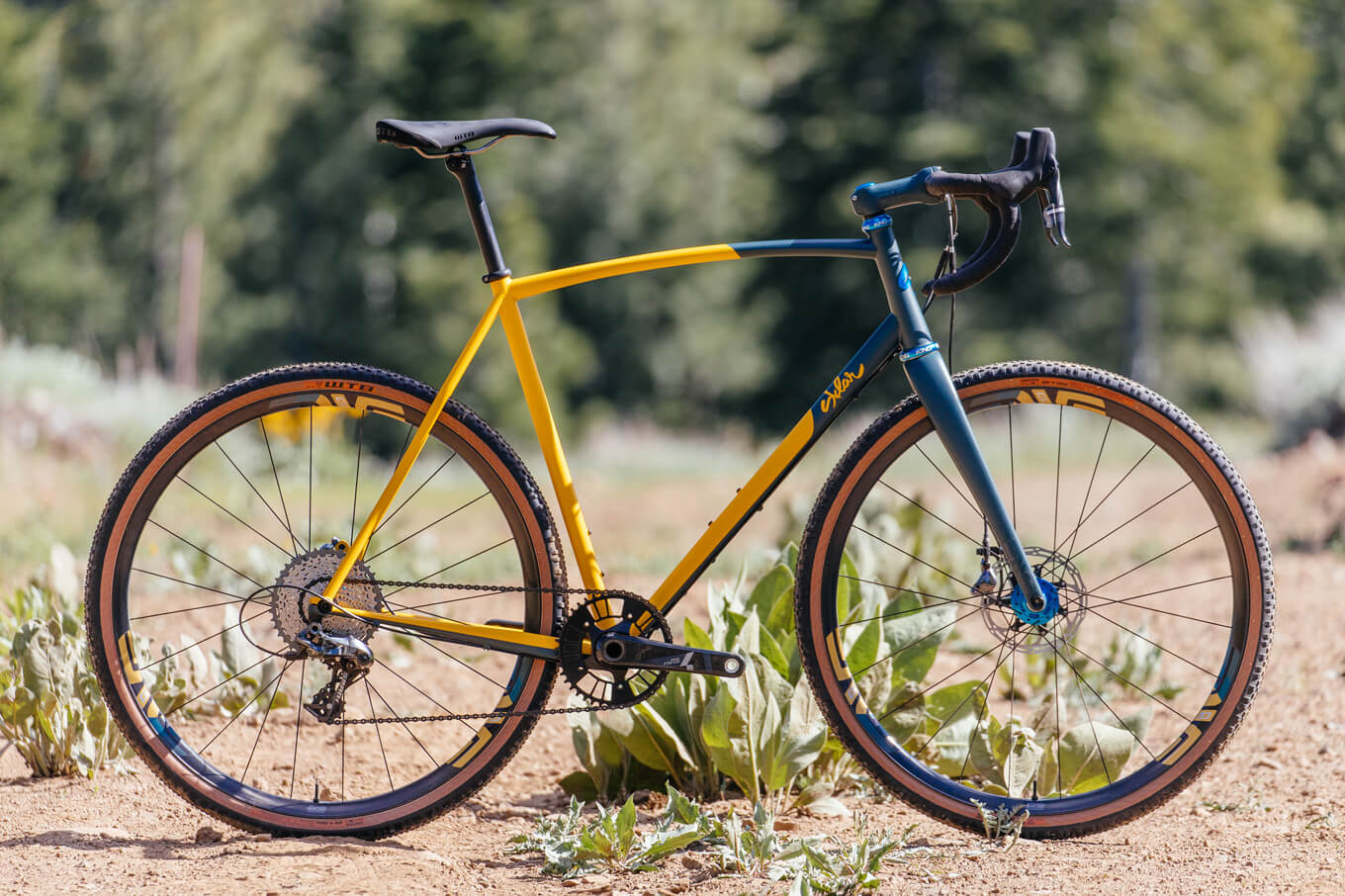 Adam Sklar has risen to the upper echelons of the American framebuilding community by virtue of his unique aesthetic and willingness to sidestep convention in pursuit of specific performance goals. Each Sklar bike is the unique product of the conversation between builder and rider.
If there is one bike to have in your quiver, this is it. The versatility of the Sklar All-Road makes it easy to hop out the front door to explore long dirt roads with your friends and keeps the door open to the opportunity for spontaneous singletrack exploration. The Sklar All-Road is built to feel at home on smooth asphalt, muddy cyclocross courses, singletrack or the local B-roads as the possibilities with a wider-tired drop bar bike are endless. When the goal is to enjoy being outside, do some pedaling and just 'get out there', this is the bike for you.
Tech/Build Specs
Frame: Sklar All-Road
Paint: Custom Builders for Builders
Cockpit: Enve Seatpost, Enve 110mm Stem and Enve 42cm Handlebar
Wheels: Enve G23 700c with Chris King hubs
Group: Sram Force 1×11
Tires: WTB
Saddle: WTB
Geo: 57.5cm Frame, 577mm top tube, see image above
Stinner Frameworks builds top-tier steel and titanium bicycle frames in Santa Barbara California, combining craftsmanship and performance-oriented detail to produce frames designed to excel in their respective disciplines.
The small team at Stinner builds bikes that share their enthusiasm for performance and adventure.
Before smooth asphalt roads swept up and between mountains, there were quiet gravel paths.
The Steel Refugio is made to handle all roads– the paved, unpaved, and everything in between with the grace and elegance of a performance machine, with comfort to explore a little further on each ride. Designed with the liveliness of a road bike and the compliance of a cyclocross bike the Refugio is built to inspire confidence and arouse the curiosity to explore new directions.
Tech/Build Specs
Frame: Stinner Steel Refugio
Paint: Custom Builders for Builders
Cockpit: Enve Seatpost, Enve 110mm Stem and Enve 42cm Handlebar
Wheels: Enve G23 700c with Chris King hubs
Tires: WTB
Saddle: WTB
Group: Sram Etap Red HRD WiFi, 172.5mm 50/34t crank, 11-32t cassette
Geo: 56cm, see image above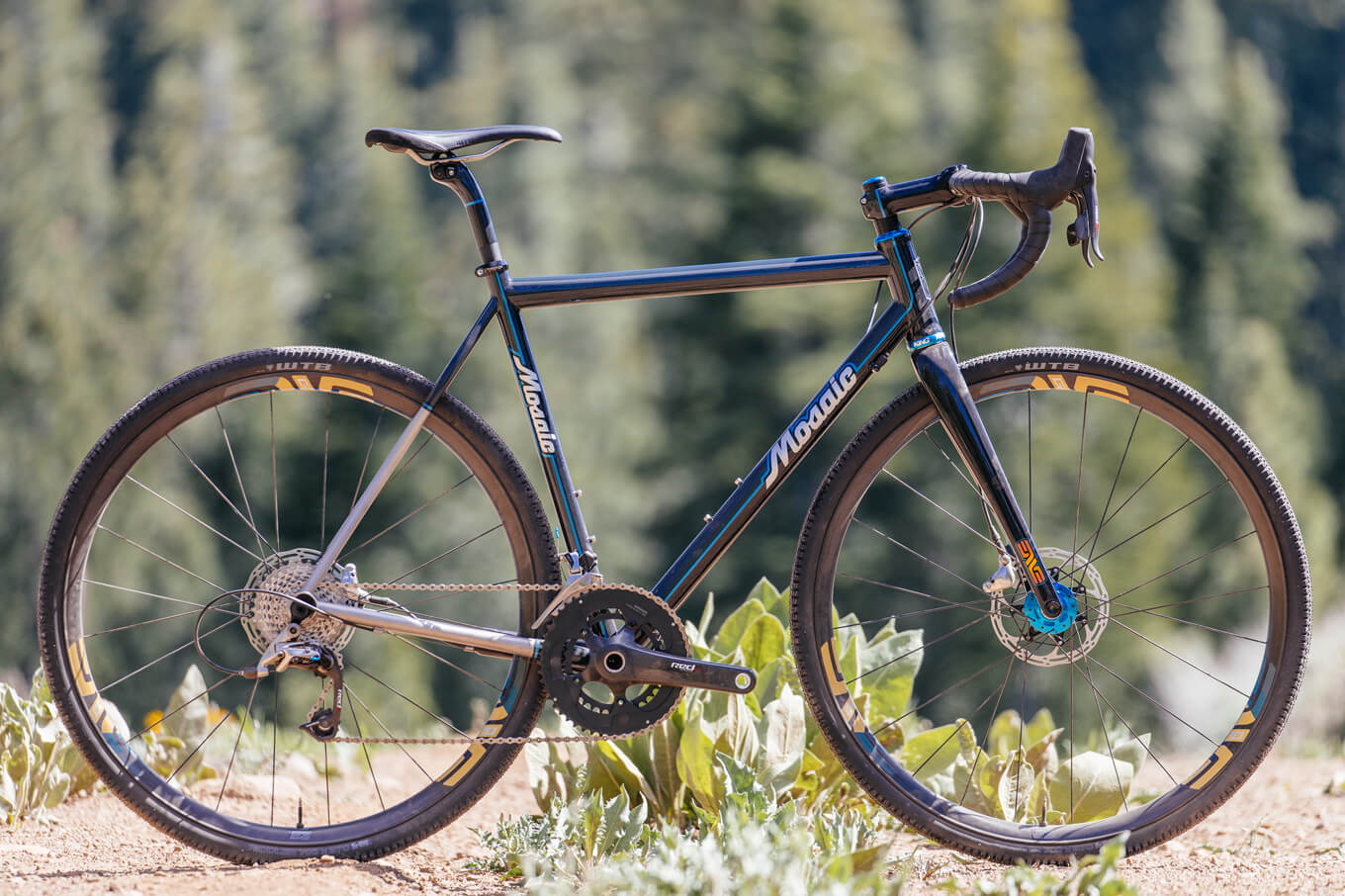 Mosaic Bespoke Bicycles turns practical performance goals into a bike of singular personality and beauty in Boulder Colorado. Built from select blends of titanium, frames are available in stock and custom configurations.
The Mosaic GT-1 is closer to a road bike than an adventure bike. The short chainstays and steep head angle provide a snappy feel on the road while the low BB, slightly longer wheelbase, and generous tire size make for stable off-road handling. Discs provide all-terrain stopping force complimenting the big tires. The 3/2.5 double butted titanium tubeset can take abuse all year in any climate. The GT-1 aims at a different category of performance: one of comfort, longevity, and functionality.
Tech/Build Specs
Frame: Mosaic GT-1 Ti
Paint: Custom Builders for Builders Alpine paint layout
Cockpit: Enve Seatpost, Enve 110mm Stem and Enve 42cm Handlebar
Wheels: Enve G23 700c with Chris King hubs
Group: Sram Red 22 HRD
Tires: WTB
Saddle: WTB
Geo: 56cm, see image above