Linking 15 California Mountain Communities Through Trails
The Sierra Buttes Trail Stewardship is developing a Trails Master Plan for Connected Communities. The Trails Master Plan (TMP) will create a vision for a recreation-focused lifestyle through community investment, shared stewardship, economic opportunity and important new local jobs, all benefiting economically disadvantaged communities in California's Plumas, Sierra, Butte, Lassen, and Nevada Counties as well as Washoe County, Nevada.
A key component to the Connected Communities Trails Master Plan is the proposed "Lost Sierra Route", which traverses over breathtaking topography, jagged peaks and high alpine meadows similar to the Pacific Crest Trail (PCT) and the John Muir Trail (JMT). But unlike the PCT and JMT, this new trans-Sierra Nevada and Cascade Range route allows for all dirt trail travelers including hikers, mountain bikers, moto riders, equestrians, trail runners, hunters, fishermen, wildlife, grandmothers and babies in backpacks. The Lost Sierra Route will be a trail for all to use that will link mountain communities together for recreational adventure and economic sustainability.
Connected Communities will provide a repeatable process through project documentation and storyboarding for how communities across the nation can partner with land managers and local government agencies to develop and maintain recreational and economic resources on public lands.
Contribute to Connected Communities
Help us build the Lost Sierra Route, a trail for everyone, and help to reinvigorate entire communities with a contribution.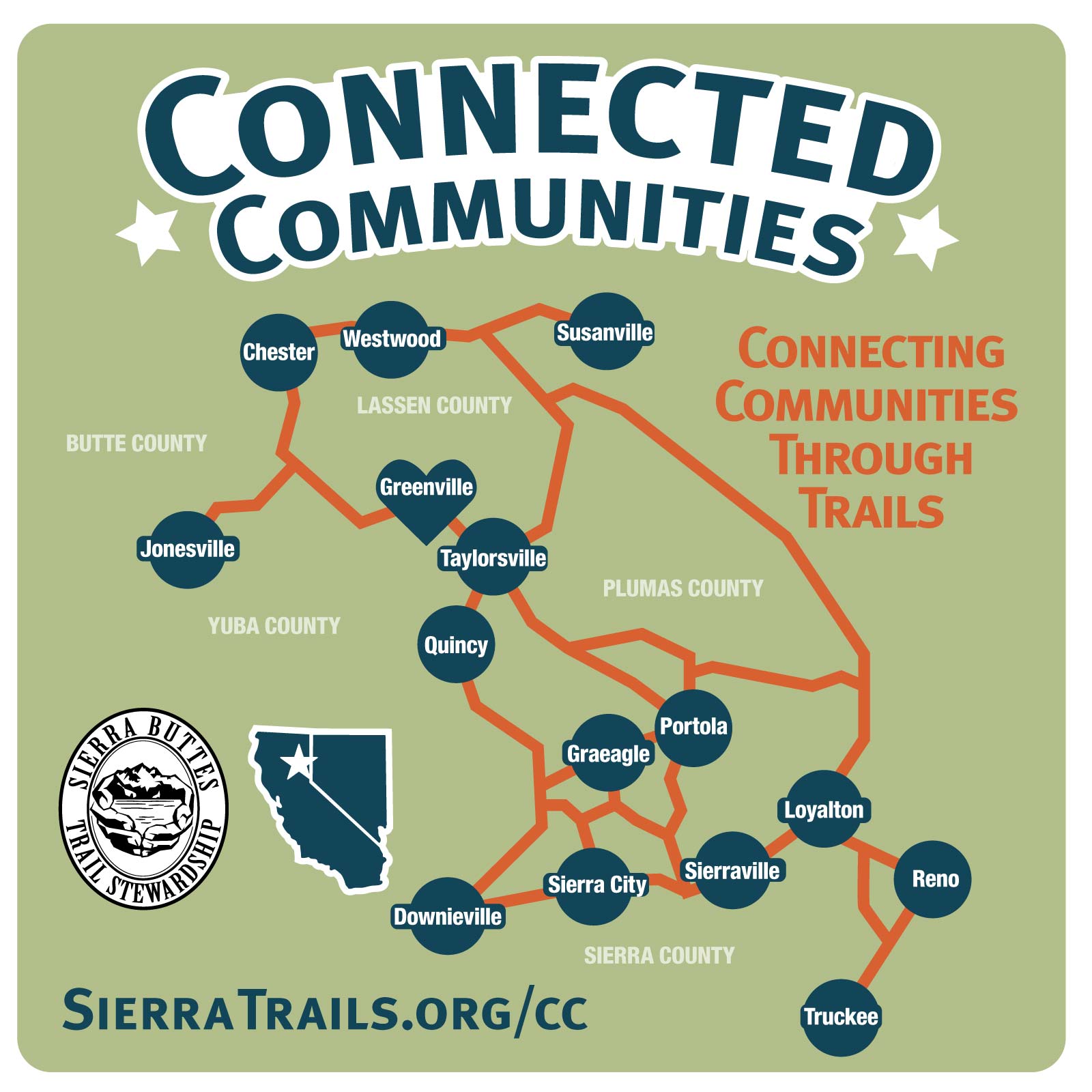 Click on map to view larger.
Track the development of Connected Communities, and follow us as we work on this grand project, sign up for our newsletter.
We promise not to spam you, we just want to pass on the building trails stoke and enjoying the Lost Sierra.