Supporting Mountain Communities Through Recreation
The Sierra Buttes Trail Stewardship (SBTS) was born from ordinary people responding to the crisis of federal trail closures in the Downieville area forests.
We wanted to preserve access to these amazing public lands.
Offering volunteer labor to the government was the solution, and it needed a big community effort.
Trail access was saved, and the SBTS Tribe grew as more trail projects were tackled. Today, SBTS connects government agencies, outdoor enthusiasts, thousands of volunteers, local businesses, industry sponsors, and private organizations on trail building and maintenance projects along with mountain festival events that showcase the incredible outdoor recreation venues of the Tahoe and Plumas National Forests throughout the Lost Sierra region.
What We Have Done
84.4
Miles of NEW Trail Built
944
Miles of Trail Maintained to Specification
101
Trail Projects Completed
85,000
Volunteer Labor Hours Contributed
Our Community Needs Your Help
We think of SBTS as a community development organization.
Over 70% of the land in Plumas and Sierra Counties is federally managed public property. Economically, that's an extreme burden on the small property tax bases of the local communities. The region flourished in the gold mining and heavy timber era. In those days the public lands provided the jobs and created the individual wealth as an extraction economy. Families could make a good living and public services were plentiful. But as extraction dried up by the early 2000s, Plumas and Sierra had slipped to 2 of California's 3 most economically and public-service depressed counties. We believe the solution lies in forests as it always has: sustainable recreation facilitated by singletrack trails putting the public lands back in balance with supporting its citizens, enabling the recreation economy. We are revitalizing our working landscape – bringing new jobs in the forest and pride to our community, while attracting people here to visit and work. We are restoring economic viability in two of the poorest counties in the state – Sierra and Plumas Counties – through our work.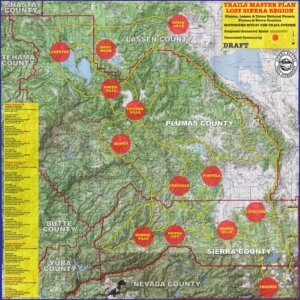 Building quality singletrack is a complicated endeavor.
SBTS employs 100% local professional staffing both on the trail and in meeting rooms with federal government, state and county officials. Our payroll dollars are re-spent in the community, and our projects create additional revenues for regional experts such as geologists, wildlife managers and soils engineers. Through our partnership with the US Forest Service, we are creating community benefit projects using trails as a tool – transforming historic paths and digging new routes in order to create a system of world-class trails on forest service and privately held lands. With more trails in the area, we are specifically targeting extended visitor stays – more days spent on the trails means more customers in town for the local businesses and more tax revenue for City and County coffers.
The Lost Sierra Master Trails Plan 
is SBTS's long-range effort to link the regional communities together with a trails network that makes extended touring and grand outdoor adventures possible.
Executing the plan takes buy-in from local leadership and the collaborative work of seeking citizen input throughout the planning process. The concept will provide public access to trails right from town for all ages and abilities. We provide presentations to local federal, city and county stakeholders and citizens to get them engaged in project planning, implementation and the ongoing maintenance and stewardship.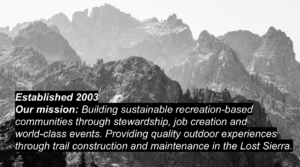 View our Working Landscape Presentation that explains our current state and why we believe trails will revitalize our disadvantaged communities. 
Please join us in the exciting work of developing sustainable recreation pathways through the beautiful forests between the towns of the Lost Sierra!
Our Active Projects
We focus on five things with our projects:
Multiple-use trails: hiking, mountain biking, e-biking, equestrian and off highway vehicle
Working partnerships with land agencies and local officials
Fundraising abilities and financial stability
Public engagement and youth involvement directly on the trail
Long term collaborative vision with our community
These are our active projects we have either in planning or where we are moving dirt with our professional trail crew and the hundreds of volunteers who help us create Dirt Magic.
Beckwourth Peak Recreation Project

Nelson Creek OHV Trail extension

Quincy – Mount Hough planning

Mills Peak Trail – South Side

Feather River Wild & Scenic Class 1 Bike Path

Lost Sierra Community Connections

Plumas Eureka State Park enhancements

Downieville Trail System enhancements

Lakes Basin Trail System enhancements
Latest News
Chris is also an award-winning frame builder, winning Best Cyclocross Bike at the 2019 North American Handmade Bike Show. Chris McGovern's involvement with...