In addition to blood, sweat and tears, the Sierra Buttes Trail Stewardship (SBTS) is fueled by passion and volunteerism, for without good people who give their time and resources to a good cause, SBTS would not exist. In order to recognize those who go above and beyond for the benefit of SBTS and the communities where we work, each year we recognize a Volunteer and Partner of the Year.
Our annual SBTS staff meeting was recently held at Nakoma Resort in Plumas County, showing off the new Altitude Recreation Center that opened in 2017. Nakoma also happened to be our 2017 Partner of the Year recipient, thanks to their constant willingness to host our staff and SBTS events.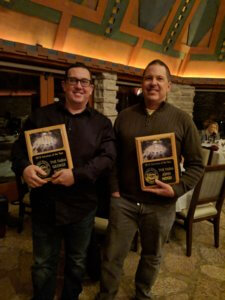 Volunteer of the Year – John Hood and George Astin – The Farm
If you've ever been to an SBTS event, you know that we take our live music and dancing seriously. So do long-time Stewardship volunteers John Hood and George Astin of The Farm, a professional audio-visual company out of nearby Roseville, our 2018 Volunteers of the Year.
John Hood began his involvement with the Stewardship many years ago, racing annually in the Downieville Classic (he even did it on a singlespeed!). He loved Downieville so much that he ended up buying a house in town. Each year John would see "The Voice" of the Downieville Classic, Marty Scheel, work the microphone and watch the live music on Main Street on Saturday night of the Classic.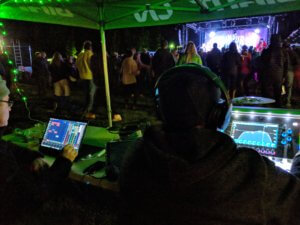 "The audio never sounded as good as I wanted it to sound," said John. "So as my bike racing career came to an end, I wanted to give back to an event and a group of people that have given me so much over the years. Since my only useful skill for society is audio, visual and lighting, I offered to take over those duties for the Downieville Classic."
John and his right-hand man George are now six years in with the Classic, all four Grinduro events and Lost and Found for the first time last year. Each year John and George up the ante of what they contribute. This past year they set "The Voice" up with his own phone app to adjust audio levels on the fly whether he's on stage or walking through the crowd. John and George also created the ability for custom playlists in between live acts. What are they planning next?
"We are working on having a satellite feed and live video on course so people in the expo area can watch all the action," said John. "The only people pulling that off currently are the major pro cycling tours like Amgen Tour of California and the Tour de France. And neither of those events have features like the waterfall on Butcher Ranch."
Having the audio-visual wizardry of John and George has taken our events to the next level, and we are so thankful to have The Farm. Their contributions over the years number in the six figures, and to help further keep the local economy going, John also brings his staff up to Downieville each year for a few days of shuttle-fueled mountain biking
"Being invited to the staff weekend was eye-opening for George and me, because we didn't realize the true depth of the commitment of all the folks in the Stewardship," said John. "To me it was just a bike race. But after receiving this award and really getting to know the organization better, I realize the Stewardship is truly a tribe; an inclusive culture and a goodness that I didn't previously understand the depth of."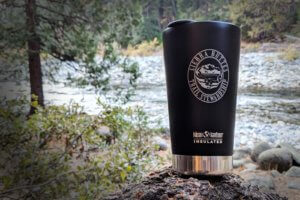 Partner of the Year – Klean Kanteen
This year's Partner of the Year was Chico-based Klean Kanteen. Since their founding in 2004 when they introduced the first stainless steel, BPA-free, reusable water bottle, family-owned Klean Kanteen has expanded their product line, making the highest quality reusable products on the planet in the effort to reduce waste. In addition to being a certified B Corporation, Klean Kanteen is a 1% For the Planet member, contributing more than $2 million directly to environmental organizations.
In addition to providing thousands of dollars in their quality stainless steel construction pint glasses, insulated tumblers, and custom water bottles for all of our event participants and volunteers, Klean Kanteen also provided much-needed cash to help support event operations. Klean Kanteen also signed on as an Adopt-A-Trail member and had hydration stations set up at all three SBTS events: Lost and Found, Downieville Classic and Grinduro.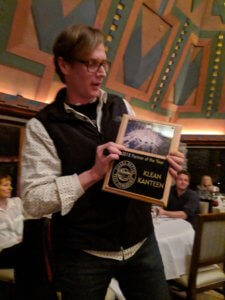 "I am very fortunate to work for a family-owned international company providing the highest quality products in communities worldwide," said Zach Starr upon receiving the Partner of the Year Award. "But we can't forget to be inspired by communities and organizations in our own backyard like the Stewardship investing time and energy outside on trails, connecting us all."
It's especially awesome to have such support from a local organization, considering Klean Kanteen was founded and is still headquartered in nearby Chico. And having Zach as the recipient was also special, considering he has grown up around Chico and spends a lot of time in La Porte, a small Plumas County mountain community not far from Downieville. We look forward to more fun and thoughtful collaborations with Klean Kanteen in the future.