Downieville is our roots, it's where everything for SBTS and Yuba Expeditions began more than 25 years ago. Quincy is where SBTS has grown most over the last decade, with nearly 100 miles of new trail completed or in the planning stages. Separated by more than 40 miles of extremely rugged and remote terrain in the heart of the Lost Sierra, Downieville and Quincy were once connected by trail during the Gold Rush Era. Since then, Mother Nature has reclaimed a significant portion of the route, but reconnecting Downieville and Quincy via singletrack is SBTS's next big ambitious project.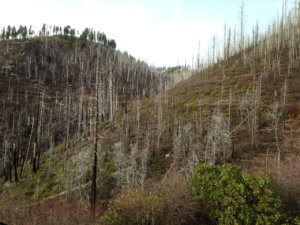 During an abnormally warm and snow-free January 2018, SBTS executive director Greg Williams, Yuba Expeditions shop manager Mason Werner and the "Trail Whisperer" Kurt Gensheimer did some recon by riding Nelson Creek Trail, a critical piece to the Downieville/Quincy connection. The trail was primitive and challenging, the terrain was remote and unforgiving, but the experience was magical.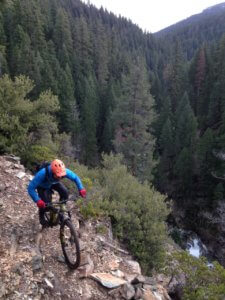 Linking the backside of Eureka Ridge near A-Tree Camp to Zumwalt Flat, Nelson Creek Trail is a historic route cut by Gold Rush prospectors. Approximately six miles in length, Nelson Creek Trail drops nearly 2,000 vertical feet heading north, starting in the lush high alpine beauty of McRae Meadow and descending into the Nelson Creek drainage. The trail drops elevation quickly into a steep and narrow exposed canyon loaded with sharp, loose shale rock reminiscent of First and Second Divides. The trail delivers commanding views of the Middle Fork of the Feather River, Blue Nose Ridge, Buzzard's Roost Ridge and Pilot Peak.
Although the existing portion of Nelson Creek Trail is passable, it is seldom used and needs heavy brushing and extensive drainage work in spots to fix erosion issues. Through our partnership with the Plumas National Forest – Beckwourth Ranger District, SBTS has received the go-ahead to include maintenance work on Nelson Creek Trail in our 2018 California OHV grant application.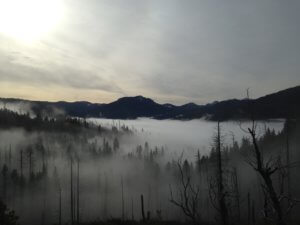 The bigger project vision will be connecting Zumwalt Flat north to Nelson Point on the banks of the Middle Fork of the Feather River, one of America's Wild and Scenic Rivers. Nelson Point was once home to more than 1,000 prospectors, a thriving community on the river that's been entirely reclaimed by Mother Nature since the Gold Rush.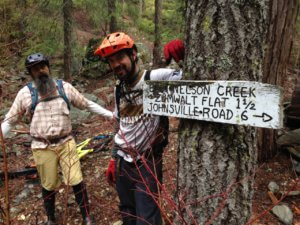 In 2010, SBTS designed, mapped and completed an Environmental Analysis to construct 9.5 miles of new singletrack connecting Zumwalt Flat with Nelson Point. Navigating some extremely rugged and steep terrain, the proposed route followed as much historic trail alignment as possible, but a wildfire in 2011 scorched the entire zone where the trail was to be built, putting the project on hold. Seven years later, the dream of connecting Downieville and Quincy was rekindled with a January mountain bike ride.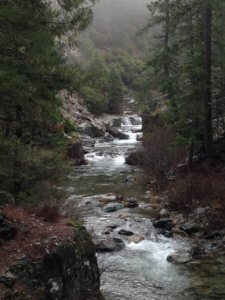 But there's still one more chapter to this story that will need to be completed. Another new section of trail will need to run from Nelson Point to Quincy, navigating around the east shoulder of Claremont Peak using as much historic trail alignment as possible. Once finished, the connection between Downieville and Quincy will be approximately 46 miles, using the existing portion of Nelson Creek Trail and all of Lavezzola Creek Trail from the A-Tree to Downieville.
Considering how much blood, sweat and tears SBTS has put into maintaining and building new trail in Downieville and Quincy, it only makes sense to complete the Nelson Creek Trail project. Connecting these two very important communities of the Lost Sierra via singletrack will be an enormous recreation asset for Plumas and Sierra County, while attracting both motorized and non-motorized users to have a true point-to-point backcountry trail adventure.