We are pleased to announce the promotion of Teal Stetson-Lee to the role of Event and Partnership Director. Teal started with the Stewardship in 2017 helping us out as an Event Manager organizing all three of our race festival events. After her first event with us, we immediately discovered her talents in getting people moving and motivated. And it's no wonder, she's the real deal – continually pushing herself and those around her to the next level.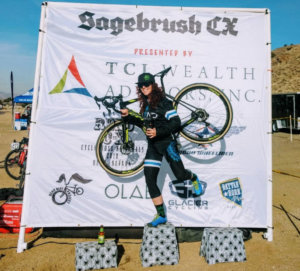 Teal grew up as a Nordic ski racer in Durango, Colorado and now resides in Reno, Nevada. She was first introduced to mountain biking and cyclocross through the Fort Lewis College (FLC) Cycling Team and has been racing professionally for eight years with such teams as Cal-Giant, Luna and Scott Sports.
She has worked as a Wild Land Fire Fighter for the Forest Service and even founded her own company, ShadowIndustries, LLC, producing the CrossReno Cyclocross Event and Music Festival in 2015 and 2016. Teal teaches women's cycling clinics and camps and is deeply passionate about encouraging newbies to discover bikes as a life-changing tool for experiencing the outdoors and discovering personal power.
When she reflected on her starting involvement with SBTS, Teal commented, "Real mountain people can be a rare find but worth the search.  They are some of the most genuine, soul-fulfilling people you will meet. After moving out to Reno from Colorado five years ago, I'm stoked to find my local mountain people in the Sierra Buttes Trail Stewardship."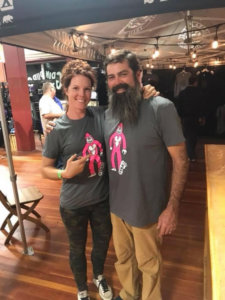 This year, we promoted Teal to Event and Partnership Director to oversee all of our events while building our partnerships and managing other activities to help with fundraising and growing our non-profit. She continues to race mountain and cyclocross bikes professionally and in this last year was crowned the Battle Born, Nevada State Champion. Through these connections to the cycling world and her keen ability to build quality relationships, we are looking forward to her expanding our partnership program and give more back to our sponsors.
"It can be tough for pro cyclists to find meaningful work after living in the never-never land of riding bikes and traveling the world," Teal said. "With Sierra Buttes Trail Stewardship, I'm incredibly lucky and grateful. I get to have my cake and eat it too! Love this crew, together we will change the world!"
Look for Teal at the next Stewardship event you attend. And be ready for her incredible inspiration, bold spirit, a lot of laughs and, if you're just standing there doing nothing, being put to work. If you are looking to become an SBTS partner, contact Teal at teal@sierratrails.org.