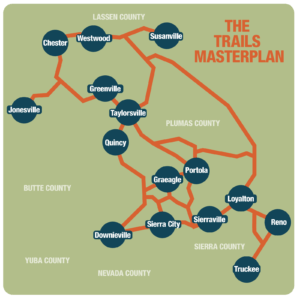 Imagine miles of new trail for both motorized and non-motorized use. Now imagine those miles connecting a dozen mountain communities across multiple counties in the Northern Sierra Nevada range. Think of all the possible adventures those trails could deliver, not to mention the new jobs created, the economic boost to local businesses and the recreation-minded culture fostered within the communities where the trails connect. 
What started as imagination a few years ago in the mind of Greg Williams, Executive Director of Sierra Buttes Trail Stewardship (SBTS), has evolved into reality with the launch and funding of a grand legacy project called Connected Communities.
Through Proposition 68 grant funding – The Clean Water and Parks Act passed in June 2018 – the Sierra Nevada Conservancy (SNC) Resilient Communities Grant Program awarded SBTS with $360,525 to develop a Trails Master Plan for Connected Communities. The Trails Master Plan will create a vision for recreation-focused lifestyle through community investment, shared stewardship, economic opportunity and important new local jobs, all benefiting economically disadvantaged communities in Plumas, Sierra and Lassen Counties.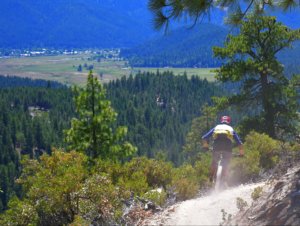 The main proposed route is being referred to as "The Lost Sierra Route", paying homage to the region and the historic Gold Rush-era mail delivery route. The route will connect northern Sierra Nevada communities of Truckee, Loyalton, Sierraville, Sierra City, Downieville, Graeagle, Portola, Quincy, Taylorsville, Greenville, Chester, Westwood, Jonesville and Susanville.
Williams and his staff are already hard at work creating public awareness, starting in the small community of Taylorsville just north of Quincy where SBTS is headquartered. Between the two communities lies Mount Hough and more than 37 miles of multi-use trail that SBTS has constructed over the last 10 years. The next phase of trails development planning on Mount Hough is in its final stages, and once approved, an additional 38 miles of new trail will be built on the slopes of Mount Hough. One of the trails will connect Taylorsville and Quincy by singletrack, the first milestone in the Connected Communities project. 
For the past month, Williams and SBTS staff have met with a handful of Taylorsville community members and business owners to hear their voices, addressing desires and ambitions as well as concerns. SBTS is also putting together a survey to distribute throughout each community, better understanding of what local community members would like this new trail network to look like. For the safety of each community, the original plan of holding larger town hall-style meetings to get resident input is not possible currently, so instead, SBTS is producing a series of short informational videos, distributed throughout each community to gain awareness of Connected Communities while encouraging survey participation.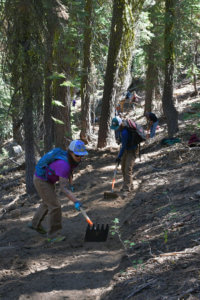 "We want the public to know that Connected Communities isn't just a dream anymore, it's actually happening," said Williams. "SBTS staff is having weekly meetings specific to Connected Communities and the wheels are in motion. It's exciting and scary all at the same time, like taking a tiger by the tail."
The four-phase process includes planning, environmental review (NEPA), construction and maintenance. In addition to Prop 68 funds, SBTS will apply for funding through California OHV Division grants, California State Parks & Recreation Grants and Recreational Trails Program grants. SBTS matching funds are also used, comprising staff time, equipment and volunteer labor as an in-kind match to leverage grant funds. SBTS has numerous partner brands that already support trail crew efforts, including Santa Cruz Bicycles, Sierra Nevada Brewing, Fox Shox, Clif and Shimano, and all their funds donated also go towards leveraging Prop 68 funds.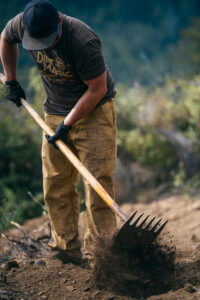 The list of Connected Communities partners is extensive and varied, spanning from local elected officials to government agencies and municipalities including the Sierra Nevada Conservancy, U.S. Forest Service, Pacific Southwest Region 5, Tahoe National Forest, Lassen National Forest, Plumas National Forest, Plumas County Board of Supervisors, Sierra County Board of Supervisors, Lassen County Board of Supervisors, Butte County Board of Supervisors, City of Portola, City of Loyalton and City of Susanville. Additional partners include Sierra County Land Trust, Feather River Land Trust, Lost Sierra Chamber of Commerce, Center for Economic Development – Cal State Chico, State of Nevada Off-Highway Vehicle Program, Nevada County Woods Riders, Truckee Dirt Riders, 707 Trail Riders, International Mountain Bicycling Association, Chico Velo, Susanville Area Bicycle Association and the Pacific Crest Trail Association. 
For more information on SBTS Connected Communities, visit: https://sierratrails.org/sierra-buttes-trail-stewardship-launches-connected-communities/