Funds will support trail work to encourage safe, responsible riding and sustainable open riding areas in the Plumas National Forest

The Sierra Buttes Trail Stewardship is pleased to announce that it has received a Yamaha Outdoor Access Initiative grant of $30,885 to support our Plumas National Forest OHV ground operations on the Middle Fork and Mount Hough trails. The grant was awarded as part of Yamaha's Outdoor Access Initiative promoting safe, responsible riding and open, sustainable riding areas.
The grant funds will allow our trail crew to purchase equipment, including a QTAC Portable Fire Suppression Unit and a powered wheelbarrow. The QTAC can be used for both on-trail fire suppression and to provide water for trail work. The grant will also cover the cost of a dozer rental, trail signs and staffing costs for a crew of four for two weeks.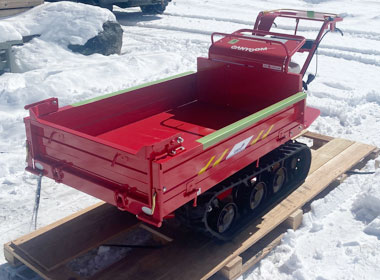 Our new power wheelbarrow just showed up!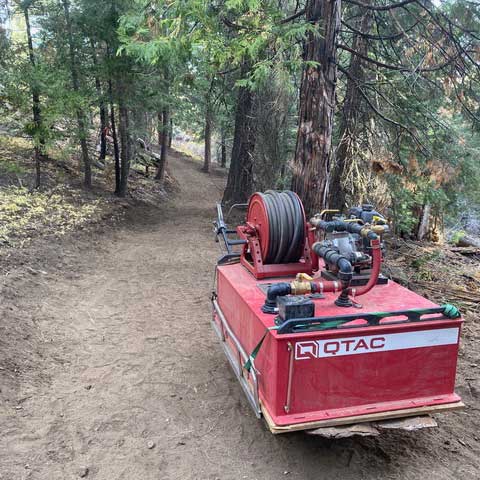 We ordered another QTAC fire suppression unit for trail work safety.
"The equipment we're able to purchase through the Yamaha grant program is going to be a huge boost to our crews this season and significantly impact how much we're able to accomplish on these two projects," said Henry O'Donnell, SBTS Trail Boss.
Trail work on Mount Hough includes maintenance of 37 miles of motorized singletrack, including logging out downed trees, cutting brush and improving sight lines, fixing tread, improving turns and building and maintaining armored creek crossings.
The rest of the grant will go toward signs, tractor rental and labor on the Cleghorn Bar OHV trail, which provides access and camping on the Middle Fork Feather River. It was burned by the North Complex Fire in 2020 and needs a ton of fire recovery work. Cleghorn Bar is a 4X4 route in our Plumas OHV maintenance grant and the Yamaha grant will be used as a match.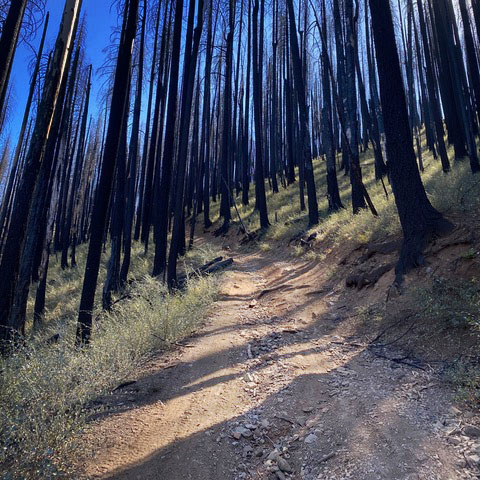 Funds will help with fire recovery work on Cleghorn Bar OHV trail.
"Yamaha is proud to continue its support of Sierra Buttes Trail Stewardship in its ongoing effort to protect sustainable access to the motorized trails on the Plumas National Forest," said Steve Nessl, Yamaha's motorsports marketing manager. "The Yamaha Outdoor Access Initiative grant committee was impressed with the SBTS' multifaceted approach to restoring the trail system, addressing immediate issues as well as deploying preventative measures to keep the trails open for OHV riding."
This is the second Yamaha Outdoor Access Initiative grant the Stewardship has received—the first one, $26,822 in 2020, was specifically for tool and equipment purchases. Using those funds, we purchased an enclosed trailer and stocked it full of tools to host trail days and act as a mobile tool shed to accommodate large volunteer days.
For more information about Yamaha's Outdoor Access Initiative, go to: YamahaOAI.com