Secretary Wade Crowfoot and members of his staff, along with U.S. Forest Service leadership and regional nonprofits spent two days discussing how SBTS' Connected Communities project can advance wide-ranging state and federal goals.
QUINCY, CA—The Sierra Buttes Trail Stewardship (SBTS) and Outdoor Alliance California partnered to bring a group of federal, state and local leaders in recreation, land management and natural resource protection to Plumas County in late April to discuss how to advance ambitious goals around conservation, equitable outdoor access and the protection of local watersheds and forests.
California Natural Resources Agency (CNRA) Secretary Wade Crowfoot led a team from the CNRA, which included Katherine Toy, Deputy Secretary for Access, Dr. Jennifer Norris, Deputy Secretary of Biodiversity and Habitat, who spearheads California's 30×30 initiative—a federal effort to conserve 30 percent of the country's land and oceans by 2030—and Madeline Drake, Assistant Deputy Director for Biodiversity and Habitat.
The group also included leadership from the U.S. Forest Service, Pacific Southwest Region 5, as well as the Plumas, Lassen and Tahoe National Forests, and representatives from the Outdoor Industry Association, Sierra Nevada Conservancy, which has already contributed  around $1.4 million to the early planning and environmental review efforts of Connected Communities, and several other regional nonprofits.
"We have a huge challenge," said Secretary Crowfoot. "In the state, we're working on: How do we protect places and people from all these crazy impacts we're experiencing more of: catastrophic wildfire, drought, now flooding? At the same time, how can we advance a really positive vision for the future? How do we help California adjust to all these changes, like climate change? How do we get more people outdoors and make sure everybody can enjoy the outdoors, and then how do we protect this incredible nature? We're one of the most biodiverse places in the world—we're looking for the win-wins that do all of that. That's really what has me so excited about this project. This project's success is our success achieving our goals."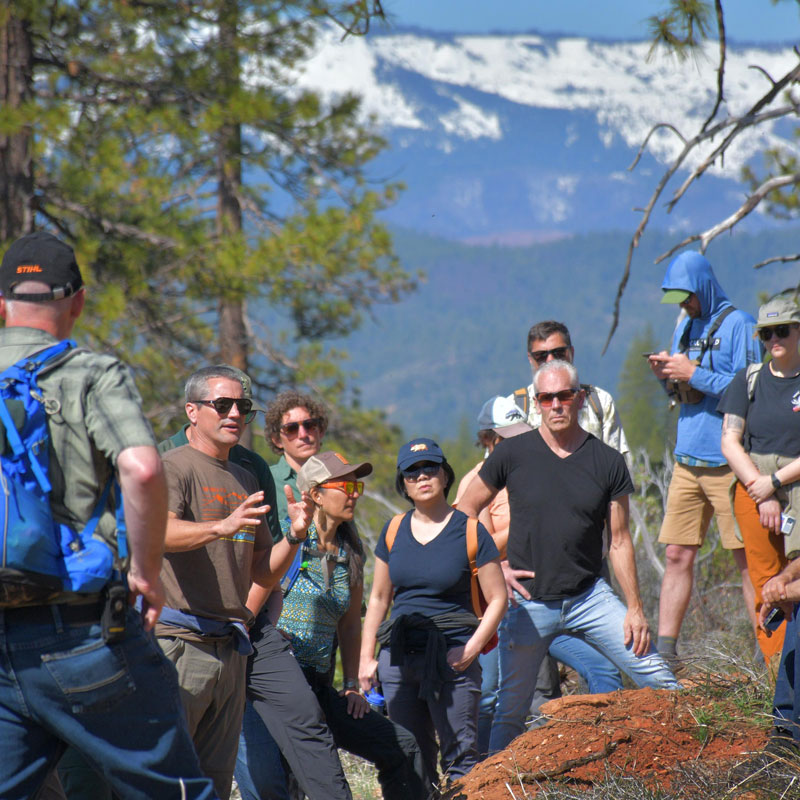 The two-day field visit started with presentations on Connected Communities at the Plumas Sierra County Fairgrounds, by SBTS executive director Greg Williams, who first envisioned and started pitching Connected Communities in 2019, and a project status update from SBTS' Connected Communities Project Manager Trinity Stirling, and Director of Grant Operations Michelle Abramson.
The Connected Communities Trails Master Plan, currently in development and slated for public release later this year, includes four main components: 
572.5 miles of trails identified for singletrack that would potentially link 15 towns spanning six counties in a multi-use signature trail 

Development of 21 new and existing trailheads 

Identification of 8 Recreation Zones (areas near communities that warrant additional planning and development)

Identification of desired conditions for fuels reduction and restoration within future project planning areas
Planning on the project started in 2020 and it is currently moving forward through a mix of grants and private funding. The project's goals check many federal and state boxes, such as protecting healthy watersheds, revitalization of rural communities in the face of job loss, access to outdoor recreation and wildfire prevention, access and post-fire restoration. But at a total projected cost of $54.5 million and a timeline into 2030, a major topic of conversation at the two-day summit was how to potentially speed that up through partnerships, unlocking federal and state dollars earmarked for wildfire restoration and prevention and doing so in a way that establishes a repeatable process that can be used across the nation.
"This area's been disinvested in for generations, largely because the jobs have come from mining and logging and those industries have all but disappeared," Williams said. "To be able to bring an economy back here through recreation, we really need collaboration and partnership with the state and the federal government, and the local government and the counties here. This gathering was to bring everybody together, to present the project, to get input on it and to figure out how we're going to invest and get this thing done."
A second day was shaped around a tour of Mount Hough, a large part of which burned in the 2021 Dixie Fire, to see the Connected Communities project area on the ground, including a new trail that will become a future link between the towns of Quincy and Talyorsville and walk bulldozer lines from the Dixie Fire and discuss how they can be integrated into future trail planning.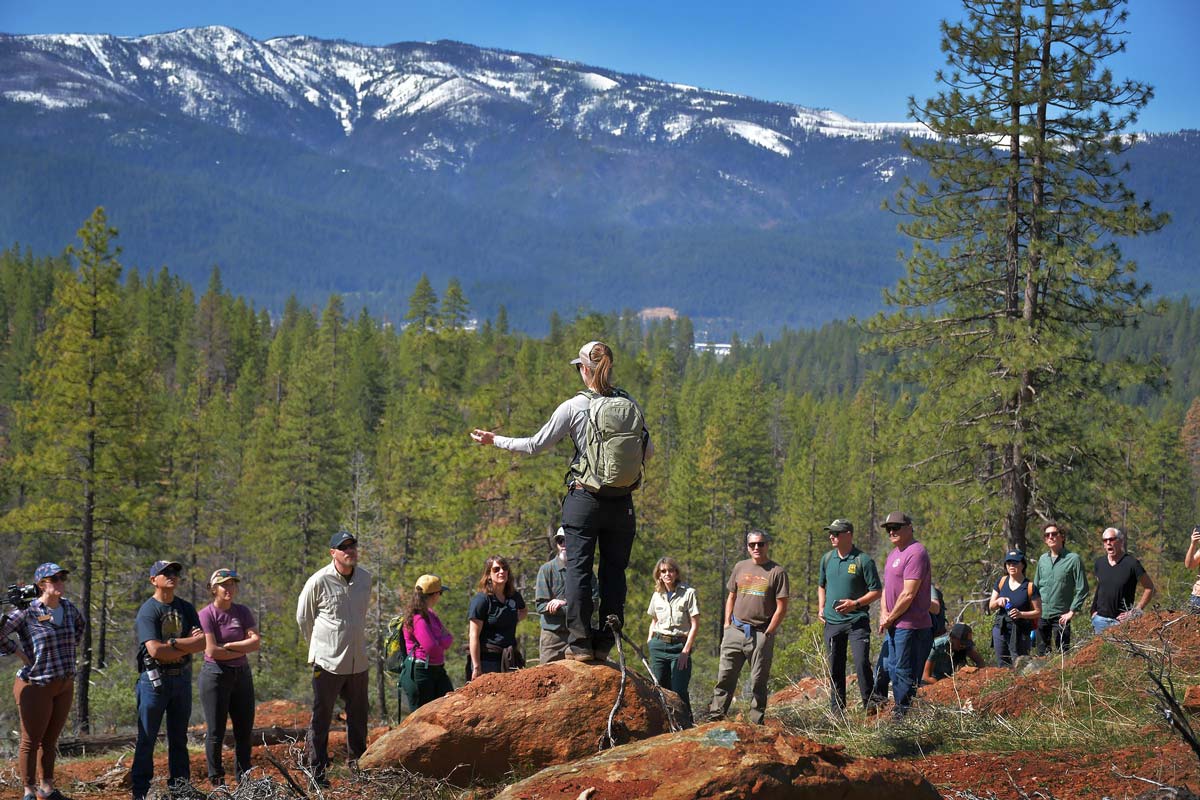 Other takeaways from the meeting focused on ways to streamline inefficient parts of multifaceted, long-range projects such as Connected Communities, particularly around costly and lengthy federal and state environmental review processes, and how organizations like SBTS can continue to strategically partner with the U.S. Forest Service.
"There's no other state, no other area, with the same combinations of risk and opportunities as we do right here," said Chris Carlton, Deputy Supervisor of the Plumas National Forest. "It's pretty awesome, and it's pretty terrifying. There is a lot of money and a lot of resources coming our way, and that comes with incredible expectations. We have very narrow timelines."
Balancing forest health, recovery and restoration and visitation requires a delicate balance at a time when federal resources are limited, he added. "We can't operate the way we historically have anymore. The role of partners is so much more magnified."
For more information on Connected Communities, go to sierratrails.org/cc. For details on how to directly support SBTS and the Connected Communities mission through a one-time or recurring financial contribution, visit sierratrails.org/donate.