WTB is the 2019 SBTS Partner of the Year!
Wilderness Trail Bikes (WTB) has been a part of the Lost Sierra trail scene since the early 90's when their staff visited Downieville for a Coyote Adventure Company tour. We introduced them to some of the world's best downhill trails, and they introduced us to Grease Guard bearings, Gripmaster brake pads and Velociraptor tires. We were all stoked and the relationship grew. And many of those WTB employees from the early 90's are still here hanging out with us today.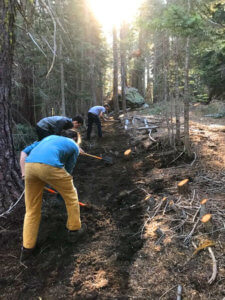 In 1995, WTB was Title Sponsor for the inaugural Coyote Classic Mountain Bike Festival. In 1998 the event was rebranded as the Downieville Classic, and WTB was instrumental in making sure the event thrived. They donated their employees' time to help us organize volunteers and manage event logistics. This support was invaluable for us in those early days.
In 2005, WTB was the first company to participate in our Adopt a Trail Program by sponsoring maintenance work on Butcher Ranch Trail – aka the Downieville Downhill. The company has continued to support maintaining Butcher by providing cash contributions annually. These donated funds are used to pay our Professional Trail Crew to work and lead volunteers. They also pay their staff a day's wages to travel to Downieville and work on trails alongside our Crew.
In 2019 WTB sent 6 staff members out to volunteer on the new Haskell Peak Trail.  These 6 WTB staff members worked til dark and built over 1,000 feet of new trail- a daily mileage goal for most professional crews. Besides their hardy work ethic these volunteers also embody what SBTS stands for- having fun while giving back to public lands and getting stuff done in the dirt.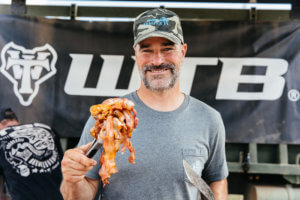 WTB currently supports all three of our festival events: the Lost & Found, the Downieville Classic and Mountains to Meadows by providing well-stocked, theme-based aid stations that are a highlight for riders needing nourishment, bacon (a hotly contested topic of aid station cuisine – just ask them), some inspiration to roll on and plenty of laughs. And if you've ever stood on top of the Classic podium or shopped at Yuba, you've seen their sweet, custom Downieville saddles.
Thank you WTB for 25 years of good times and for supporting SBTS in rebuilding mountain communities through recreation, one trail at a time.
Volunteers of the Year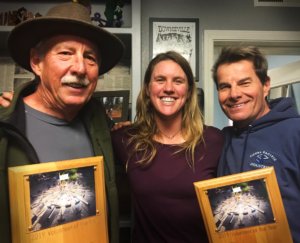 Our 2019 Volunteers of the Year are Pete Hockrein and Phil Braddick!
The Mount Hough Phase II project and the daunting task of flagging 30+ miles of potential trail would not have happened without Pete and Phil. Usually meeting Thursdays at Carey Candy Company, they would gather their friends, flagging and head off into the woods scouting and flagging routes. Both put in over 15 days on the project.
More than once, Pete was late getting home to Quincy because he was unstoppable in the field leveraging his years of forestry experience for this type of work. Phil one day shuttled his bike up Mount Hough, stashed his bike, drove back down to the bottom, then bushwhacked his way up to the top GPSing the new route and then rode his bike down. A clever guy maximizing his fun factor. Thank you Pete and Phil for your time and passion for supporting our community. SBTS could not have finished this project without you.