It's been a busy year on the bicycle for Quincy resident and high school science teacher, Dana Ludington. In addition to recently being crowned a Lost Sierra Triple Crown Champion, she is also creating a mountain bike league for middle and high school kids in Plumas County.
Starting with the Lost and Found Gravel Grinder back in June, a 100-mile bicycle adventure on mixed dirt and paved roads between Lake Davis and Antelope Lake, the Lost Sierra Triple Crown then featured the legendary Downieville Classic 28-mile Cross-Country mountain bike race in August, finishing with Quincy's Grinduro event in late September where gravel grinder meets enduro format timed segments over 65 miles.

The Triple Crown was dreamed up in 2015 by the Sierra Buttes Trail Stewardship, the organization responsible for putting on all three events.
"The Triple Crown is the ultimate test of a true backcountry rider because there's no hiding out on course," said Greg Williams, Executive Director, SBTS. "You have to be very fit and really skilled to prevail in all three events."
Considering Ludington is a regular volunteer of Stewardship trail work days, she had quite a strong cheering section that kept her motivated through the summer.
After a training season filled with as many miles on the road as on the dirt, Ludington won her class at Lost and Found, placed second in Downieville and won Grinduro, an impressive performance that crowned her the Women's 30 and Under Lost Sierra Triple Crown Champion. When asked which event was the most difficult, Ludington said the 100-mile Lost and Found course was by far the hardest.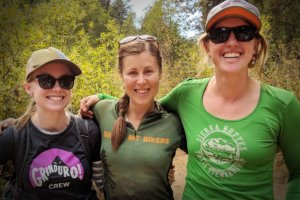 "It was my first hundred mile ride and the most painful thing I've ever done," said Ludington. "I'm not sure if I'll ever do a hundred miles again, but it was a good experience because of the challenge."
Her training transitioned from road to mountain bike in preparation for the rocky, technical terrain of the Downieville Classic. The Lakes Basin area became Ludington's summer training ground, riding trails like Mount Elwell, Jamison Creek and Long Lake.
It was during the Downieville Classic that Ludington bumped into Morgan Fletcher, an award-winning coach for the Oakland Composite High School Mountain Bike Team. Fletcher heard about Ludington's interest in forming a youth cycling team in Quincy, and helped guide Ludington through the process that included obtaining coaching certifications.
"Morgan and the Norcal High School Cycling League have provided me with so much motivation and support to get a mountain bike league going for middle and high school kids in Plumas County," said Ludington. "We have already gotten a lot of local interest."
The first informational meeting will be held on November 15 at Quincy High School Room 6 at 6PM. Pizza and beverages will be served and all students from 7th through 12th grade and their parents are encourage to attend. Ludington stressed this isn't just for Quincy kids, as she'd love to see students from all over Plumas County including Portola and Greenville. If the weather holds through November, Ludington plans to get out on a few fun rides with interested youth.
"Our goal initially is to offer local adventure rides in the spring and attend one Norcal High School Cycling League event, most likely Folsom," said Ludington. "If after the first season there's a lot of enthusiasm, then we'll take a look at attending a few more races the next season."
Considering Ludington's status as Triple Crown champion and science teacher, kids interested in the youth mountain bike program will be fortunate to have such a well-qualified coach and mentor.