This story is part of our Connected Communities project, a vision for a recreation-focused lifestyle through community investment, shared stewardship, economic opportunity and important new local jobs in California's Plumas, Sierra, Butte and Lassen Counties. Find out more about the project and read about the towns on our Connected Communities web page.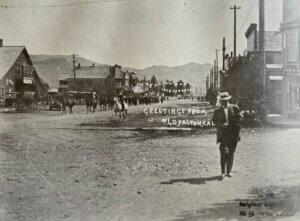 Tucked away along Highway 49 in an eastern corner of the Sierra Valley, the largest sub-alpine valley in the American West, the town of Loyalton (pop. 769) is the only incorporated city in Sierra County. Originally named Smith's Neck when it was founded in 1854 by the Smith Company (a group of miners looking to raise cattle), the loyalty local residents felt to the Union army during the Civil War led the town to be renamed Loyalton in 1863, an effort led by the omnipresent Doctor A.G. Doom, better known as Dr. Doom, the town's storekeeper, postmaster, Justice of the Peace, physician, teacher and minister.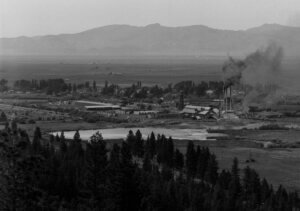 By 1901, when Loyalton was officially incorporated as a city, officials also stipulated the city be "dry", free of alcohol, supported by a strong religious interest of most residents. Interestingly, to keep the influence of alcohol far from town, the incorporation of Loyalton came with a 50 square mile boundary, making it the second-largest city area-wise in California after Los Angeles. By 1930, the official size of Loyalton shrank considerably, down to three-quarters of one mile, a result of the lack of funding to maintain so many miles of roads. And the dry status of town also vanquished; the temptation of libation was too great.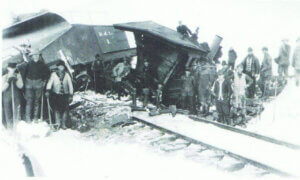 Although Loyalton had a short history of successful silver and copper mining claims, the town was better known as a lumber and ranching community. The first significant sawmill in the area was the Lewis Mill, located 11 miles south of Loyalton on Smithneck Creek. Operating in the late 1880s, Lewis Mill hauled lumber to Truckee and Verdi, as well as supplying many Sierra Valley ranches using massive steam-powered tractors weighing 28 tons. The mill employed more than 100 people, and had 5 million board feet of lumber in its mill pond in July of 1896.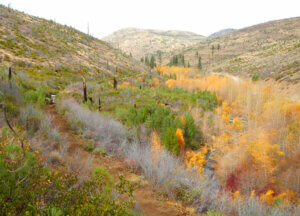 After the construction of the Boca and Loyalton Railroad in 1901, the prosperity of Loyalton, and its number of sawmills, rapidly grew, as did the number of cattle, dairy, hay and grain ranches. Although the Boca and Loyalton Railroad is long gone, the grade from Loyalton south still exists today as a 2.5-mile multi-use trail running on the west side of Smithneck Creek, a trail that SBTS helped resurrect in 2014. SBTS plans to continue following the historic route southward, eventually connecting to Truckee and Verdi through the Connected Communities project.
Loyalton is also known for its endearing characters. One of these characters was Hal Wright, known as the "Flying Paperboy", who published the Sierra Booster newspaper in Loyalton from 1949 until his passing at age 96 in June of 2000. Hal traveled Sierra, Nevada, Plumas and Lassen County, selling ads, meeting people and getting the scoop for his paper, doing it in his own Piper Cub airplane, dropping newspapers to readers from the sky.
And when a deadline had to be met, he met it, even if it meant skiing from a snowbound Loyalton, over Yuba Pass in a historic snowstorm (Highway 49 was closed for weeks), and down below Sierra City so he could catch a ride to the printer in Sacramento; a three-day adventure he actually accomplished in 1952 with absolutely zero skiing experience! Hal was a champion of local business and tirelessly promoted the area in order to attract a new generation of full-time Sierra County residents. Hal's legacy was shared with all of America in 1997 when CBS Sunday Morning aired a feature about his life. His daughter, Janice Buck, continues her father's legacy today with the Sierra Booster still going strong.
A 1996 look at Hal Wright and his newspaper, the "Sierra Booster" – CBS Sunday Morning, 2009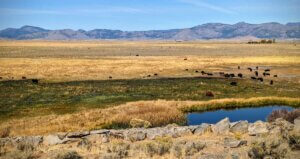 Today, many of the cattle ranches in the Sierra Valley near Loyalton are owned by the same families that founded them more than 150 years ago, still producing hay just as they did during the Gold Rush. And although Loyalton has suffered economic hardship swings over the years with the repeated opening and closure of sawmills, small businesses and new residents are moving in, drawn by the beautiful, secluded and peaceful setting in the southeast corner of the Sierra Valley; a development that the Flying Paperboy would surely be proud to see.