Something exciting is going down in Downieville and it took a lot of people to make it happen.
We are on the eve of building a brand new section of the Pacific Crest Trail (PCT). Besides this incredibly rare opportunity to build fresh PCT, this change in alignment will greatly benefit ALL trail users with new mountain bike and motorcycle legal singletrack connectivity – while giving PCT through-hikers and equestrians easier access to a water supply.
USFS and Sierra County Land Trust Partnership
The US Forest Service (USFS) has been working toward this project for the past nine years and much of the project is located on their lands. After they made it through all of the environmental approvals, talking with all user groups and coming up with a plan, one obstacle remained: connecting the dots that required permission through privately held property.
So we jumped in to help out. Thankfully, we have a longstanding relationship with the Sierra County Land Trust who helped us build the Sunrise Trail and Pack Saddle Trail at the top of Packer Saddle. In order to make the connection, a 1/2 mile of trail needed to run through Sierra County Land Trust property – and they agreed to make it happen.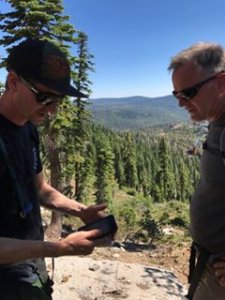 USFS Trails Manager, Paul Hart on the left plotting the new route.
Mongo Makes Mountain Magic
One of our very first SBTS volunteers and professional Trail Crew members was Erik "Mongo" Johnson. Over the years, Mongo has been an important part of our non-profit as a volunteer on our Advisory Board and helping us win ten REI Grants in a row. Now Mongo is making more dirt magic happen, this time helping us obtain $10,000 in REI grant funding, clearing the trail corridor and scouting out route options for the project.
SBTS has contracted with Mongo's company, Johnson Trail Services, to lead this work on the PCT realignment project on our behalf. The REI funding we received will help pay for Mongo to craft new singletrack alongside the USFS Tahoe National Forest crews and the Pacific Crest Trail Association (PCTA).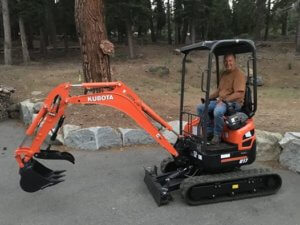 Mongo on his new Tonka toy
REI Steps Up to Help Fund the Project
When Mongo approached REI with the idea for this project, they were pleased to support a project that benefited so many of their customers – hikers, backpackers, campers, cyclists and mountaineers. REI commented, "It is a privilege to partner with your organization in 2017. Working together, we hope to build greater awareness of and engagement in your efforts to steward and/or increase access to the outdoor recreation places where REI members and customers play."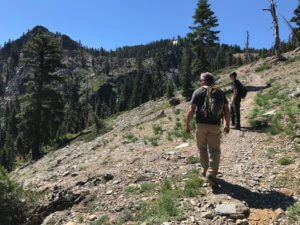 Walking the line
The PCTA Is Excited Too!
The PCTA is just as excited as we are, getting their volunteers ready to build a brand new section of the PCT. The new PCT trail alignment will wander past Tamarack Lakes on its way to the Packsaddle Campground where there's fresh water and good camping. PCTA has hired ACE trail crews to support the work and supervise their volunteers.
The Downieville Downhill Grows to 7,000 Feet of Vertical Descent
Once the PCT is realigned, the Sierra Buttes Lookout Trail off the shoulder of the 8,590-foot high Sierra Buttes will become mountain bike legal. This will open up nearly 1,500 extra vertical feet of singletrack descending starting at the Sierra Buttes Lookout staircase, making Downieville one of the biggest descents in North America!
The Sierra Buttes Overlook trail adds a sweet, technical singletrack descent that's got numerous natural rock features and stunning, cliff-side views of Young America Lake. It's an amazing trail, but since there are no shuttles to the top of it, riders will have to earn that extra vertical, and trust us, you'll really earn it muscling up the climb to the breathtaking vistas at the top.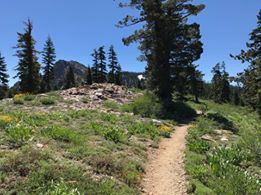 This fine section of the Sierra Buttes Lookout Trail will be open to bicycles once the PCT realignment is complete
Singletrack All The Way to Pauley Creek Baby Heads – No More Fire Road Grind
The reclaimed section of the PCT at Packer Saddle will be converted into motorized multiple-use singletrack that bypasses the 6 miles of grinding fire road you'd normally ride. After 4 miles of undulating singletrack bliss along the Sierra crest, the trail connects to the brand new 1.8 mile Gold Valley Rim Trail that connects the ridge above Deer Lake to Gold Valley OHV Trail where the Pauley Creek section of Baby Heads begins.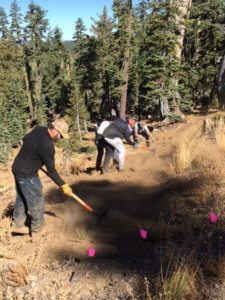 Nevada County Woods Riders moto club working to finish the Gold Valley Rim Trail
And Last but Not Necessarily Least – Finally Toilets at the Top
Near the top of Packer Saddle, the old PCT trail intersection will be converted into an OHV staging area that will include pit toilets. No more digging holes or careless people leaving their toilet paper all about!
Want To Be A Part of History? Come Build It
Work begins right after the Downieville Classic and will continue into the fall before completion. And the more volunteers we have digging in the dirt, the faster the new trails open!
We will be holding volunteer trail work days soon. Check our Upcoming Events calendar for Trail Daze to work on the new PCT alignment. The forthcoming Mountain Epic will work on this trail along with improvements to the Gold Valley Rim Trail connecting to Pauley Creek. If you want to work on a weekday and have some trail building experience working with SBTS, email Erik at erik@singletrackmtb.com.
Like we said, it has been an amazing, collaborative group effort to make this happen! Come be a part of history in the making.