We are pleased to report that donations to our Santa Cruz Bicycles 5 Bucks a Foot campaign helped us raise over $53,000 for Downieville trails. These funds will help repairs on favorites like the North Yuba Trail and dozens of miles of new trail including a 20-mile singletrack connecting Halls Ranch and Chimney Rock Trail, a new '2.5 Divide singletrack connecting the top of Third Divide with First Divide and new singletracks at the top of Rattlesnake, Lavezzola, Big Boulder and Pauley Creek trails. All of these trails will be built and maintained with locally hired and trained work crews who work for our non-profit.
When it came time to announce our winner 5 Bucks a Foot winner, something truly amazing happened.
The winner of a $10,000 Santa Cruz mountain bike of his choosing was Michael Knighten of San Francisco, CA. BUT instead of claiming the prize for himself, Michael graciously decided to donate his winning to a kids program in need of bicycles. That means FIVE Santa Cruz Chameleon bicycles are going to be donated at a combined value of $10,000 thanks to Michael.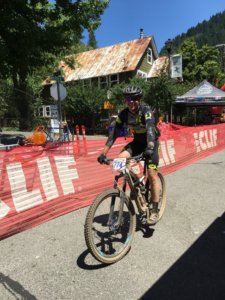 Downieville is a special place for so many of us, and Michael is one of those people who has been touched by this town. Here's what he had to say: "I am super excited to support the Sierra Buttes Trail Stewardship. I am the mountain bike manager for Team Roaring Mouse based in San Francisco, CA. We always get 15-20 racers up for a couple weekends a summer. It's our happy place. The Downieville trails have been a sanctuary for us for years and it's been amazing to see the continuous improvement and addition of trails. We go up several times a year, always for the race weekend, for July 4th weekend and as many other day trips and weekends as we can sneak in otherwise. A couple of favorite memories for me are the second shuttle ride of the day, mid-afternoon still buzzing from the morning ride, crawling along next to the Yuba River up thru Sierra City, watching the fishermen and listening to whatever awesome jams the Yuba Expeditions shuttle driver is pumping, especially if Kurt is driving. The Big Boulder loop is one of one of my favorite things in the world, especially as it's followed by the Star Wars-y swoop of upper Third Divide. And the parade on July 4th is amazing – I love the people and the kids with their little US flags, so damn American…"
Michael's kind donation has led to a new program that SBTS has created for Plumas County youths called Knights of the Lost Sierra – Earn a Bike Program in honor of Michael. Junior high and high school students in Quincy and Portola can earn a Chameleon bicycle by working hard building and maintaining trails and volunteering at our events. This community service must be done 10 times in order to earn the bike, so we are teaching the next generation trail stewardship while instilling how a strong work ethic will achieve rewards. We intend to keep this program going annually with the support of grant funds.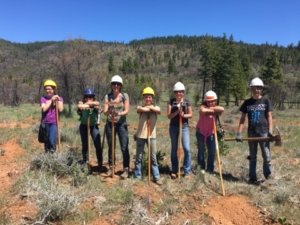 We are now accepting applications for the Knights of the Lost Sierra through June 30, 2017. Interested Plumas County youths can send applications to Mandy at mandy@sierratrails.org or to SBTS, PO Box 26 Graeagle, CA 96103. Applicants should answer the following questions:
Name, School, Grade, Phone Number
Why is community important to you? How do you benefit from community?
Why is service important? What can you gain from providing service to your community?
How will you challenge yourself in this program?
What strengths will you bring to the program and crew to help make it a success?
Thank you again Michael for your donation, giving us the inspiration, and to you and Santa Cruz for opportunity to make this program happen!