This story is part of our Connected Communities project, a vision for a recreation-focused lifestyle through community investment, shared stewardship, economic opportunity and important new local jobs in California's Plumas, Sierra, Butte and Lassen Counties. Find out more about the project and read about the towns on our Connected Communities web page.
Built on top of volcanic rock deposits from nearby Mount Lassen and situated on the northwest shore of Lake Almanor at 4,500 feet elevation, the town of Chester has attracted more than a century of tourism and recreation, as well as being home to a premier sustainable lumber operation. Chester received its name from Burwell Johnson and Oscar Martin in 1894. Johnson was raised near Chester, Illinois, and Martin hailed from Chester, Vermont, so the name came naturally.

After two giant volcanic eruptions of Mount Lassen in 1914 and 1915, Lassen National Park was established in 1916, attracting tourists and travelers to Chester. Through the Prohibition era, Chester gained a reputation for bootlegging and gambling, with loggers and cowboys often clashing with fists at the Bear Club, among other vices, earning it the nickname "Little Reno".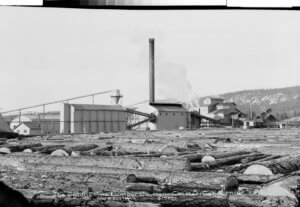 The opening of Collins Pine Company in 1943 stabilized both the population and reputation of Chester to this very day. The family-owned Collins Pine Company had many logging operations around the country, but the 67,000 acres it owned near Chester would become one of the first experiments in sustainable forestry, diametrically opposed to the traditional "cut and run" practices of competitors. The company's operations are also entirely powered by burning leftover sawdust and wood chips, creating steam power that runs an electric generator. This sustainable approach has helped Chester produce a steady, long-term supply of lumber while preserving habitat and providing a stable community that endures in the 21st Century.
Nearby Lake Almanor was originally known as Big Meadows, inhabited by the Northern Maidu tribe. But the arrival of the Gold Rush pushed the Maidu out, with settlers using the lush, green pastures of Big Meadows for grazing cattle, supplying the numerous nearby mining camps. Dr. Willard Pratt pioneered resort tourism in the area, building a hotel at Prattville in 1867. Thousands of tourists flocked to the region for world class fishing and boating opportunities.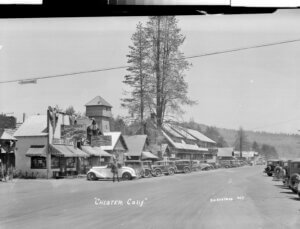 Hydro power soon changed the face of Big Meadows, and by 1890 the Great Western Power Company built the Big Meadows Dam, capturing water from the North Fork of the Feather River, submerging the frontier outpost of Prattville by 1914 when the new Lake Almanor reservoir was filled. After two dam expansions, today's Canyon Dam is 130 feet tall, making Lake Almanor 13 miles long by 6 miles wide, considered one of the biggest lakes in California.
The name Almanor comes from the daughters – Alice, Martha and Elanor – of Guy C. Earl, vice president of Great Western Power. Today the lake is owned by Pacific, Gas and Electric and is used for hydroelectricity production. Lake Almanor is also very popular for boating, swimming, fishing and personal watercraft.