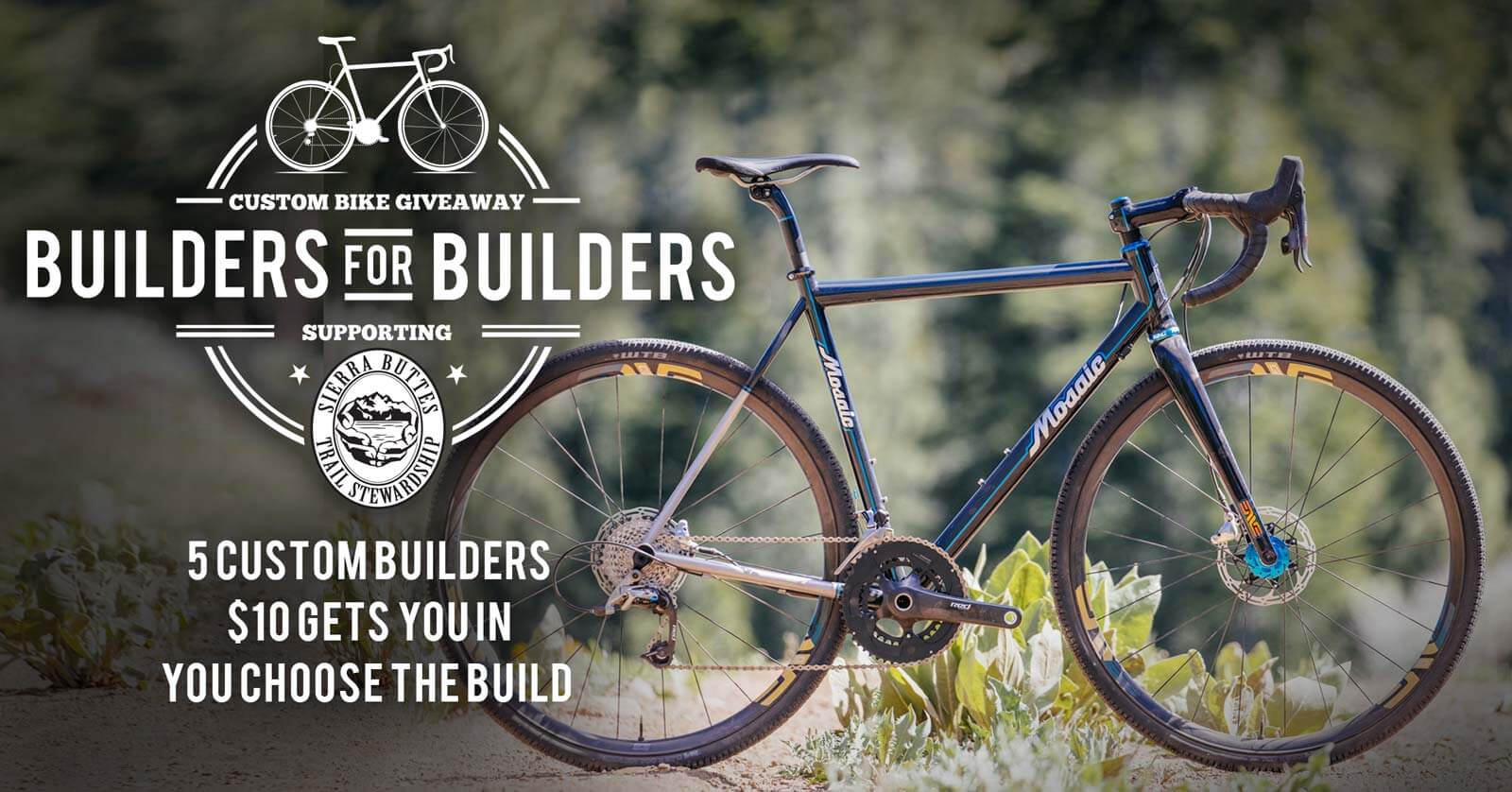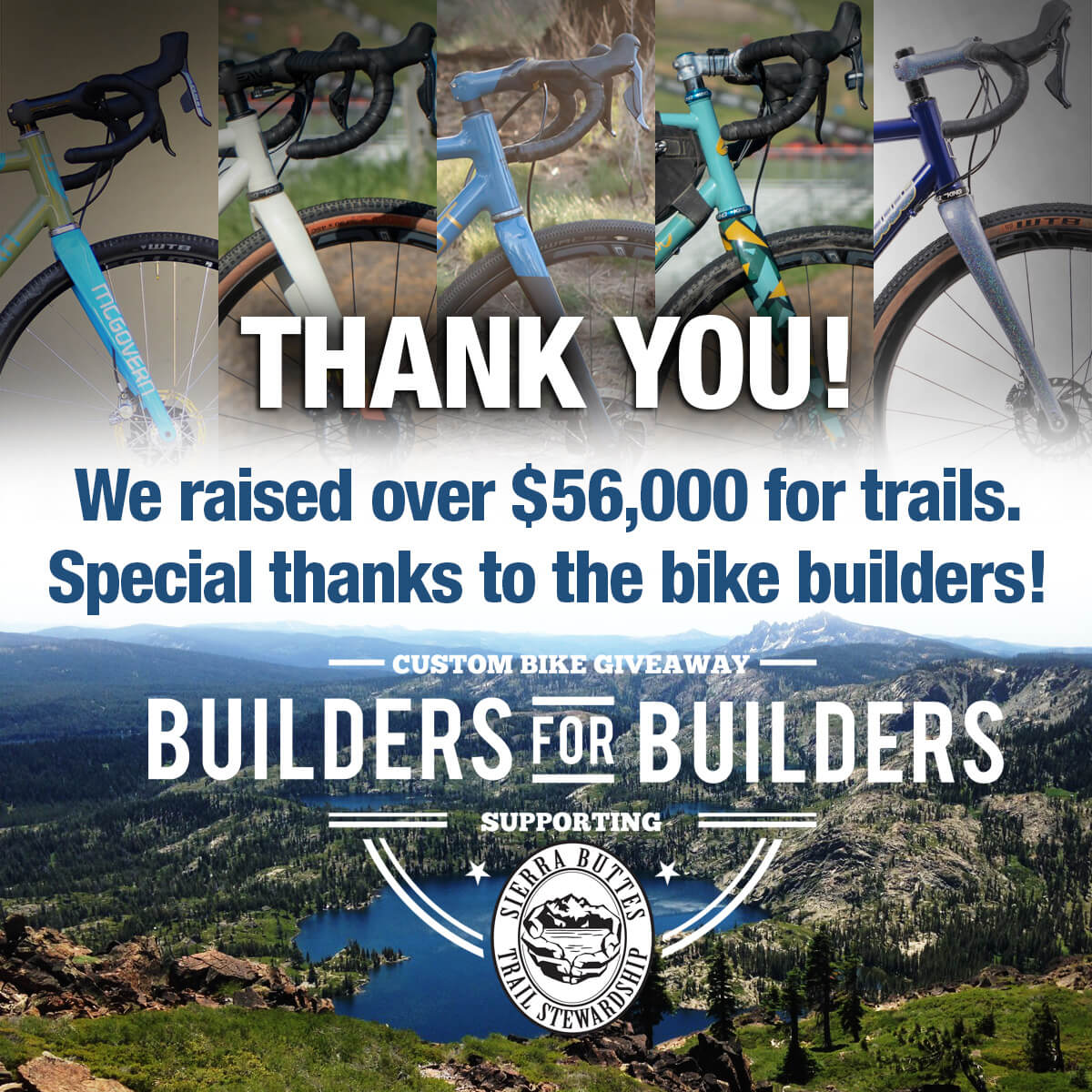 Congratulations to Kenny Lehman who has chosen McGovern Cycles to build him a sweet monster-cross bike!
Bicycle frame building and trail building are as many forms of art as they are meant for adventure. The Sierra Buttes Trail Stewardship is honored once again to be the beneficiary of Builders for Builders, an online prize drawing running from now until June 7th, 12 noon PST, where each $10 donation enters you to win a custom bicycle from your pick of builder: Stinner Frameworks, Sklar Bikes, Mosaic Cycles, McGovern Cycles and Argonaut Cycles. The winning bike will truly be one-of-a-kind, outfitted with a custom paint job, Enve wheels and cockpit, made to measure just for you.
"This is our second year working with the SBTS on the Builders for Builders program, and I couldn't be happier," says Billy Sinkford, senior partner at ECHOS Communications. "Helping continue this effort is important. Supporting the Stewardship, promoting frame building and riding awesome trails? It's a slam dunk."
For everyone familiar with our 5 Bucks a Foot fundraiser, Builders for Builders is similar in concept, with all proceeds going back to the Stewardship to fund new trails and creating much-needed jobs in Plumas and Sierra County.
"I can't begin to express how grateful we are to be involved with this fundraiser," said Greg Williams, SBTS executive director. "Thanks to Builders for Builders, last year we were able to put $40,000 back into the community through trail projects like Beckwourth Peak Trail and Mills Peak Trail. Without programs like Builders for Builders, we wouldn't be as effective in funding new recreation opportunities – what we like to call 'dirt magic' – for the public."
Enter now for your chance to win a custom built bike made to tackle the rugged and beautiful backcountry near Lake Davis where the Lost and Found Gravel Grinder will take place on June 1.
Builders for Builders has concluded, thank you for your donations!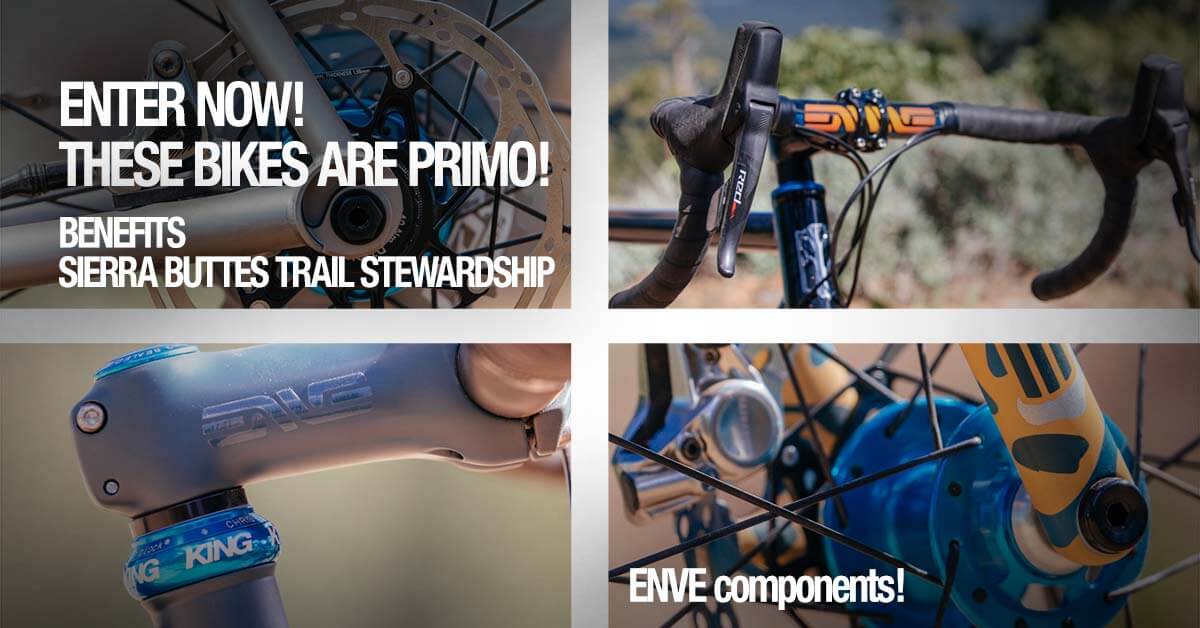 Builders for Builders Bikes
Stinner Frameworks
Stinner Frameworks builds top-tier steel and titanium bicycle frames using some of the lightest and highest-quality tubing in the world.
Sklar Bikes
Whether your background is in mountain or road riding your fit and ride characteristics can be perfectly tuned for a truly quiver killing bicycle.
Mosaic Cycles
The tangible act of turning practical performance goals into a bike of singular personality and beauty. This is Mosaic Cycles, not confined by self-imposed limitations but rather working to embrace each rider's aspirations.
McGovern Cycles
Whether you want a stiff race bike for the road, a gravel machine gun such as the SPLICE, or a proven cyclocross bike; Chris can build it to fit you just right.
Argonaut Cycles
Argonaut Cycles are building bikes that retain the feeling of the original steel bikes made in the early days, but lighter, stiffer where it counts, and with a ride quality that we feel is truly transcendent.
Partners
Enve
We are more than riders… We are risk takers, engineers and innovators, driven by our love of cycling. We are a dynamic collection of skilled individuals that create the world's best carbon fiber products.