This story is part of our Connected Communities project, a vision for a recreation-focused lifestyle through community investment, shared stewardship, economic opportunity and important new local jobs in California's Plumas, Sierra, Butte and Lassen Counties. Find out more about the project and read about the towns on our Connected Communities web page.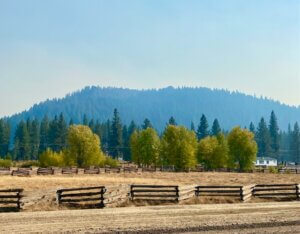 Laying atop lava fields erupted from Mount Lassen between Lake Almanor and Susanville, the town of Westwood is one of the southernmost Lassen County communities in the Cascade Mountain Range with legendary logging lineage, home to one of the greatest character duos in American folklore. Sitting at 5,128 feet elevation, Westwood recorded 1,647 residents in 2010, a drop of more than 300 since recording 1,998 in the year 2000.
Like many other Lost Sierra communities, Westwood has struggled with loss of population due to lack of industry, but it didn't used to be this way. Blessed with abundant forests of massive sugar pine trees, Westwood was founded in 1913 and built into a company town by the Red River Lumber Company of Minnesota, thanks in part to the Fernley and Lassen Railway constructed at the same time.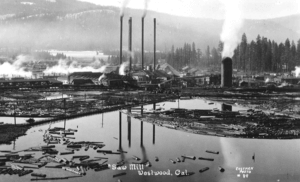 In order to attract and retain employees, Red River Lumber Company developed Westwood into a fully functioning town including a school, hospital, church, bakery, hardware store, an opera house and The Westwood Club, featuring a restaurant along with barbershop, billiards room and a newsstand. There was even The Big Store, built in 1913, a predecessor to the modern shopping mall. The Big Store had 18 departments and was a block long by a block wide, supplying everything residents needed.
Red River Lumber Company was innovative, boasting the world's largest electrical sawmill of its time, as well as developing one of the first electric railways in California in 1927. The company also built more than two dozen bunk houses steam heated in the winter from mill operations. By the 1930s, Red River Lumber Company was the largest pine lumber mill in the world, occupying more than 100 acres and employing more than 5,000 people. Red River Lumber Company was sold in 1944 to Fruit Growers Supply Company, and by 1956 the mill closed.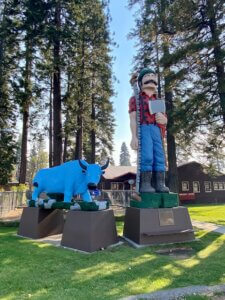 But Westwood's most enduring claim to fame was the legend of Paul Bunyan and his blue ox, Babe. Created by William Laughead, an ad man for the Red River Lumber Company, Paul Bunyan and Babe were the subjects of short stories Laughead wrote to promote the lumber camp's operations. Designed to be bigger than life, the legend goes that Paul and Babe could clear 640 acres of pine trees in one day's work. And once Laughead brought the iconic characters to life through animation, companies like Disney and Warner Brothers immortalized Paul and Babe in American folklore with cartoons.
To celebrate this piece of Americana, for more than 30 years, the Paul Bunyan Mountain and Blues Festival in Westwood combines music with rich logging history and lumberjack competitions including standing block chopping, singlebuck saw race, chainsaw race, axe throwing and a choker race. Folks visiting Westwood today can see the bigger-than-life statues of Paul and Babe on display in the center of town, a lasting tribute to the legend of this quaint frontier town.