This story is part of our Connected Communities project, a vision for a recreation-focused lifestyle through community investment, shared stewardship, economic opportunity and important new local jobs in California's Plumas, Sierra, Butte and Lassen Counties. Find out more about the project and read about the towns on our Connected Communities web page.
Sitting in the shadows of Mount Elwell and the Lakes Basin, along the middle fork of the Feather River at 4,373 feet elevation, the town of Graeagle (pop. 596) has a rich and colorful history. The community was originally known as Davies' Mill, named after Arthur Davies who purchased a vast 13,000 acre timber tract in 1916 from Sierra Iron Company, spanning from Blairsden to Calpine.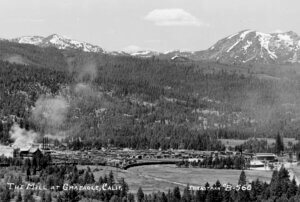 After the land acquisition, Davies built a sawmill and an entire town to house employees. But instead of constructing new buildings, Davies utilized existing structures from other mills he owned in the region. Most of the small red houses seen today in downtown Graeagle were actually transported from Davies' other mill outpost in the Sardine Valley, just north of Stampede Reservoir. The homes were sawn in half, then placed on the Boca-Loyalton Railroad to Beckwourth, then on the Nevada-California-Oregon Railway to Clio, where they were dragged to their current location in Graeagle. 
In 1918, California Fruit Exchange (CFE) purchased the outpost from Davies, using the lumber facilities to manufacture fruit boxes. CFE wanted to change the name of the town, so they held a naming contest. The winning submission was a simple compounding of the word Gray Eagle (from nearby Gray Eagle Creek) and removing the Y, resulting in Graeagle. Locals pronounce it like it's spelled, sounding more like "graygle" than "gray eagle".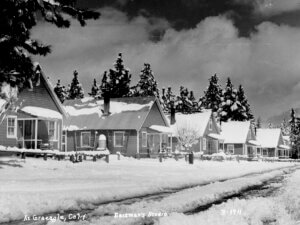 With a new name, Graeagle was built out by CFE with many new buildings to support the manufacturing business and accommodate more employees. By the 1930s, Graeagle was thriving with a hardware store, butcher shop, slaughterhouse, dairy, restaurant, schoolhouse, filling station and a dance hall. In 2018 the Graeagle Store celebrated its 100th anniversary, still a fixture of the town for both locals and visitors.
There was much for community members to do in town, including monthly dances, orchestral performances, silent movies, baseball games and even twice monthly boxing prizefights at a lighted outdoor arena accommodating 800 spectators. Another highlight was the annual September arrival of a trainload full of grapes to Graeagle from CFE's farms, stomping them down into wine. But by the 1950s, the combination of dwindling lumber availability and cardboard replacing wooden boxes for fruit transportation forced CFE to shut down the Graeagle Lumber Mill. Within weeks the mill's infrastructure was auctioned off and the town was virtually deserted. 
In 1958, Harvey West, Sr., a Placerville-based timber operator purchased the entire town of Graeagle from CFE, consisting of 42 buildings plus 13,482 acres of timberland, farm and meadowland and both water and power plant rights. West had a plan to develop the town into a quaint, rural community, and thanks to the rapid expansion of highways in the 1960s, Graeagle was no longer as isolated as it used to be, becoming hardly more than an hour's drive from Reno.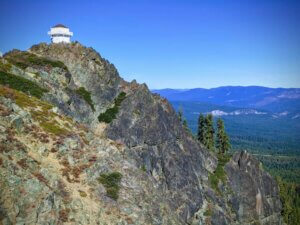 The West family subdivided the timberland near town for residential homes, as well as constructing the 18-hole Graeagle Meadows Golf Course, completed in 1970. Since the 1960s, Graeagle has become a generational escape for families who love the outdoors. With unparalleled access to the beautiful and rugged Lakes Basin region, featuring two dozen alpine lakes carved by glaciers, both residents and visitors to Graeagle can experience some of the best fishing, hiking, horseback riding, mountain biking, backcountry skiing and snowmobiling in California.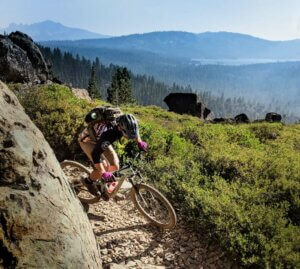 The West family continues to keep the classic rural charm of this frontier community much like it was generations ago, while supporting local businesses and the growing popularity of a recreation-based economy. Mountain biking has seen noticeable recent growth in Graeagle, thanks in part to the nine-mile long Mills Peak Trail, completed by SBTS in 2018 after an 11 year partnership with the Plumas National Forest and a number local volunteers and supporters. And with the upcoming construction of Beckwourth Peak trail and the ongoing planning of the Mohawk Rim trail, Graeagle will be connected via singletrack to nearby communities of Portola and Calpine.
For a more comprehensive history on Graeagle, visit the Graeagle Associates history page, written by the West family.