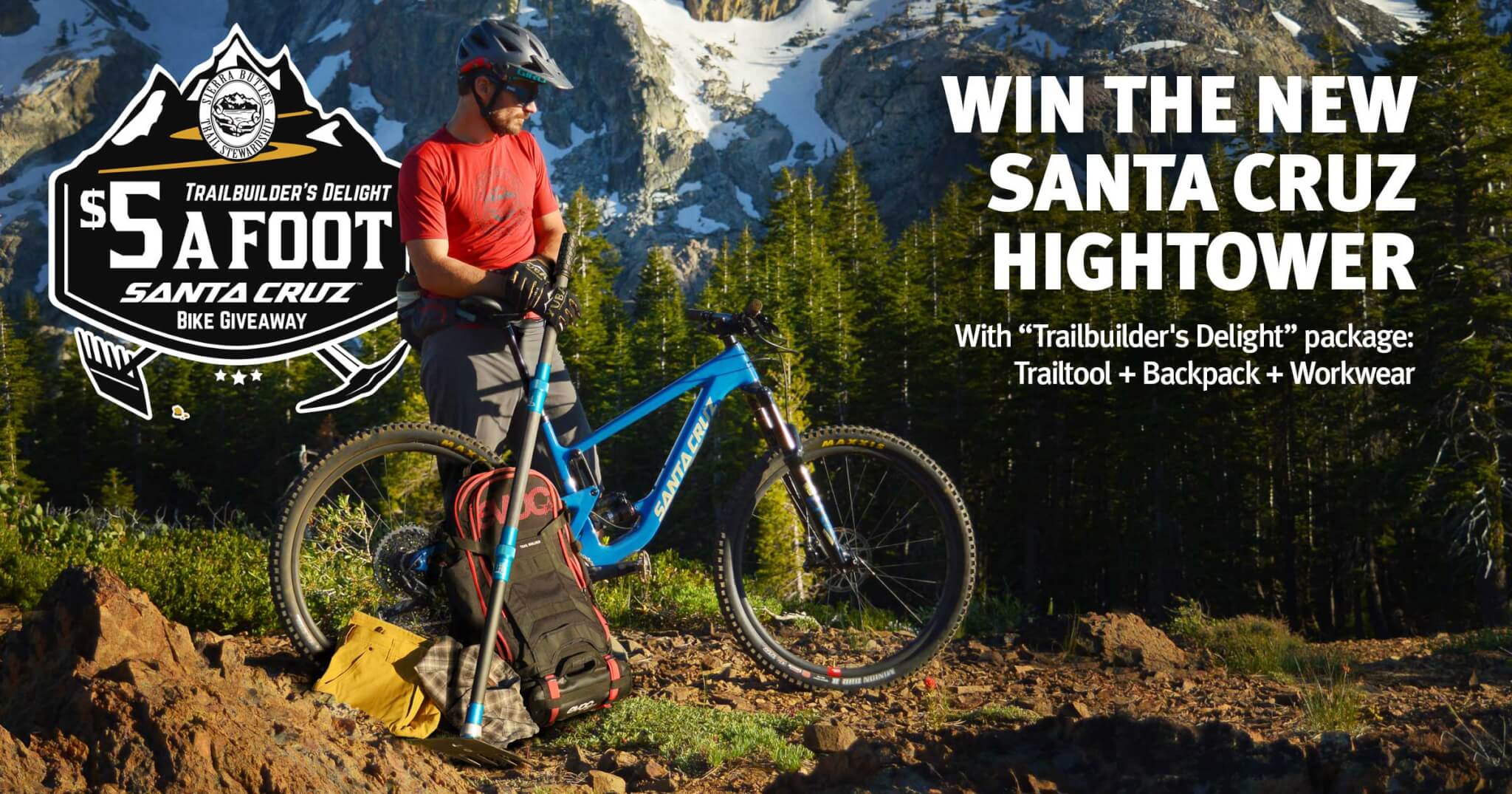 Since its inception, the Sierra Buttes Trail Stewardship 5 Bucks a Foot fundraiser has generated nearly $400,000 for trails, helping fund everything from environmental studies to actual digging in the dirt, creating new ribbons of singletrack like the legendary Mills Peak Trail in Graeagle, California.
Although there are a lot of fundraisers for trails these days that give away a brand new bike to one lucky winner, 5 Bucks a Foot is the original, and SBTS is always looking for ways to keep it fresh and interesting. This year, in the spirit of getting folks outside not only to ride, but also to give back to the trails we love, 5 Bucks a Foot is featuring a "Trailbuilder's Delight" package.
In addition to receiving a brand new Santa Cruz Hightower or Juliana Maverick of his or her choice with Santa Cruz Reserve carbon wheels, one lucky winner will also receive an EVOC Trail Builder backpack, a Trail Boss collapsible trail tool with a Mcleod and saw attachments, and work clothing from Patagonia perfect for digging in the dirt.
For those not familiar with 5 Bucks a Foot, every five dollars spent gets you an entry into the fundraiser drawing. There is no limit to how many feet of trail you can purchase, and the more feet purchased, the better your chances of winning. However, it only takes five bucks to win, and there have been folks in the past who've won a brand new mountain bike worth $10,000 with only a fiver. Talk about a good deal!
5 Bucks a Foot has been instrumental in helping us create what we like to call 'Dirt Magic' – new trails and recreational opportunities for the public. 5 Bucks a Foot is especially important because it is a source of funding that we can use for projects that might not qualify for some grants, including non-motorized trails and funding environmental studies.

— Greg Williams, SBTS Executive Director
This year's 5 Bucks a Foot campaign will be open internationally, launching on Monday, July 15 and running through Monday, August 19, celebrating Santa Cruz Bicycles support of stewardship and trails. A winner will be chosen, contacted and announced on social media within days of the close.
Stay tuned to @sierratrails and @santacruzbicycles social media channels for regular updates during the campaign, highlighting the current trail projects that 5 Bucks a Foot will help support. And most importantly – purchase as many feet of trail as you can. Not only will you be helping create more Dirt Magic for all, but you also might be the lucky owner of a brand new Santa Cruz Hightower or Juliana Maverick of your choice!