We are proud to partner with the Mount Hough Ranger District on this special project. The folks in this district understand the importance of more trails and specifically multi-use trails. We are excited to help make this a reality. We will work on South Park shared by equestrians, hikers and bikers.
Project Overview
In partnership with Quincy Natural Foods who adopted the Cascade Trail, we will be working on trimming overgrown maples, narrowing tread spots and armoring some pesky wet spots that have difficulty draining.
The second half of the group will go up the hill to work on Indian Falls Ridge 2 building trail through these amazing rock formations. Access by moto or mountain bike will be ideal as a hike in, it will be a 5- mile round trip.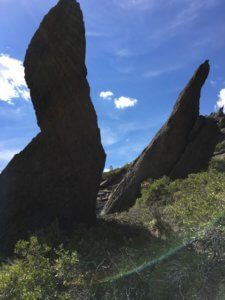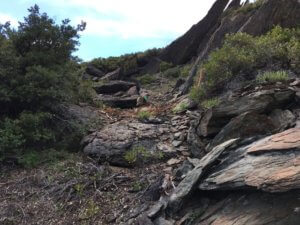 We will meet at 8:30 for breakfast provided by the Quincy Coop and American Valley Bakery.
Anyone can help out and no experience is required.
Meeting Location
Cascade Parking Lot (off Hwy 70 and Old Highway Rd)
(directions below)
Project Schedule
8:30 AM
Breakfast, Meet and Greet.
Sign in volunteers
Make breakfast and lunch
8:55 AM
Introduction (5 mins)
Safety Talk (10 mins)
Split into crews
Meet with Crew Leader and discuss travel plan to site (10 mins)
9:00 AM
Depart for Trail Work Sites
Work time: dependant on travel time to project site
Crew Leaders introduce type of work, reasoning behind it, and proper tool techniques
1:00 PM
Tools down, return to parking lot
DRIVING DIRECTIONS:
Leave Quincy on highway 70 West towards Oroville
Drive 5 miles to old Highway
Take a right on old highway and fallow down to Spanish Creek.
Follow dirt road next to Spanish Creek, Park at the end of the road.
RSVP for the Trail Day